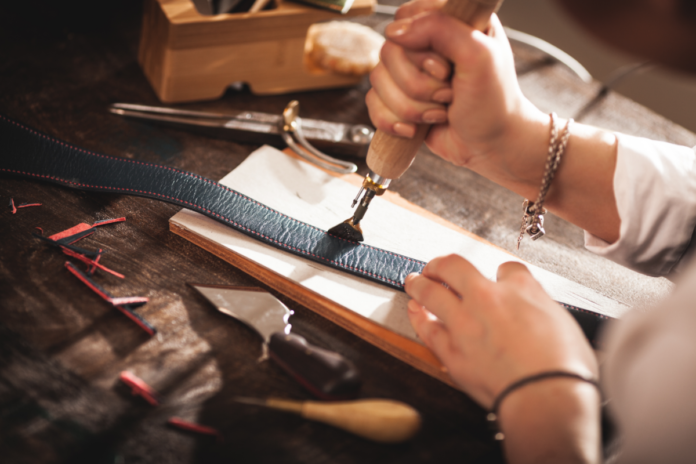 Vocation leads to a host of awards and rubbing shoulders with royalty.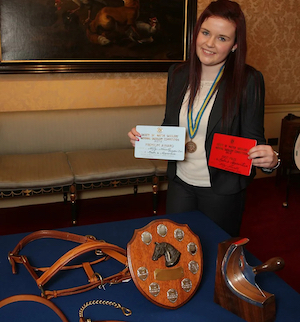 Abby Brennan has been named ETN/SMS Bench Saddler of the Month for January.
The award, presented in conjunction with the Society of Master Saddlers (SMS), recognises those who uphold the highest standard of leathercraft skills.
Abby was nominated by Chris Taylor, a Master Saddler and the current SMS president, who runs Saddler's Den in Southport.
He says: "Abby contacted me looking for an apprenticeship back in 2010. She completed her apprenticeship with me and stayed on for a further couple of years. She won a number of awards during her training.
"It's been good to follow her progress over the years and now she's forging her own path having started her own business a few years ago. Abby has been quietly working away and is doing excellent work."
About Abby Brennan
Horses have always been a big part of Abby's life. She had ponies from about the age of eight; her mum had her own horse too.
As a child, Abby did a lot of showing, mainly ridden mountain and moorland classes on Fell ponies. As she got older, you'd find Abby out drag hunting most weekends.
"I don't currently own a horse, my three-year-old daughter and work make it difficult," she says. "I would love to own another horse in the future."
Abby confesses to being a hands-on, creative person; at school she loved textiles classes. She was ready to go to college and study fashion and textiles, but something told her this wasn't the right path.
"It was my step-dad who suggested becoming a saddler," explains Abby. "It was a way to combine my love of horses with a career.
"I phoned around a few places asking if they were taking on apprentices. One of the people I contacted was Chris Taylor at Saddler's Den. Thankfully, he said yes."
A different avenue
After completing the four-year Worshipful Company of Saddlers' Millennium apprenticeship scheme at Saddler's Den, Abby stayed on to work there for a further two years.
At this point, she decided to pursue a different avenue within the industry and went to work at Saddles Direct, the Lancashire based retailer specialising in second-hand saddles.
"I learnt so much during my five years with Saddles Direct," recalls Abby. "From customer service and marketing, to all about the different saddlery brands."
During her maternity leave she started making the odd piece of leatherwork for friends - and began to think about starting her own business.
She returned to Saddles Direct for five months before taking the plunge in March 2021 when she started AB Leather.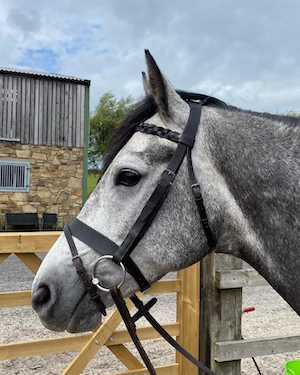 A trip to Buckingham Palace
In 2012, Abby won the Saddlers Company Award for Excellence. For the first time, it was awarded at Buckingham Palace by The Princess Royal.
"It was a surreal and slightly terrifying experience," recalls Abby. "I was so proud to have won the award, and to meet The Princess Royal was something I will always remember."
Abby won a number of other awards at the 2012 SMS Competition including the Master and Apprentice class with Chris Taylor.
She also collected the Tony Byrne Memorial Trophy for best harness entry by a trainee, plus the Les Coker Millennium Trophy for best entry by an Apprentice.
Flexible working
Abby's business, AB Leather, produces high-quality, bespoke, handmade leatherwork items.
"Working for myself gives me the flexibility I need with a young family," explains Abby. "I didn't expect the business to take off quite so quickly, but it did and I'm really busy."
Her favourite item to make are bridles and she loves a bit of bling, so the fancier the better.
Boot alterations have become a major part of Abby's business too, with about 90% of her work currently spent repairing or altering boots.
"I really enjoy giving a pair of boots a new lease of life," she says. "They are expensive, so if I can replace a zip, or alter them to fit, that means they can still be used, which is great."
Job satisfaction
Abby gets a huge amount of job satisfaction from what she does; and she loves to see customers' reactions to a piece of bespoke leather work.
She also says that working from home can make it difficult to switch off.
"To ensure the family has a change of scene, we go away most weekends in our touring caravan – and that includes my eight-year-old Border Terrier, George, who used to travel everywhere with me during my apprenticeship."
How to nominate a bench saddler:
Everyone is invited to nominate bench saddlers they feel deserve to be named ETN Bench Saddler of the Month. Candidates for the award must be a member of the SMS and based in the UK or overseas.
To nominate a bench saddler (or more than one),
email editor@equestriantradenews.com and tell us why this person deserves to be put in the spotlight. Please include the bench saddler's name and business name too.