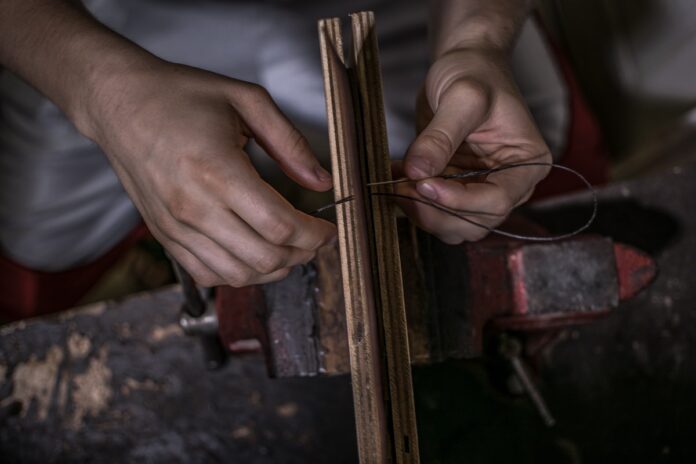 London landmarks have strongly featured in this award-winner's illustrious career.
Jeanette Hutchinson – the Metropolitan Police's Master Saddler - has been named ETN/SMS Bench Saddler of the Month.
The award, presented in conjunction with the Society of Master Saddlers (SMS), recognises those who uphold the highest standards of leathercraft skills.
Jeanette was nominated by fellow Master Saddler Frances Roche, who says: "Jeanette has won many prizes in the National Saddlery Competition. She has a great flair for thinking outside the box and has created some unusual and interesting leather items over the years."
About Jeanette Hutchinson
Jeanette grew up in London's East End, close to Canning Town. At school, she was attracted to pottery, wood-working or lessons that involved designing things rather than maths and science.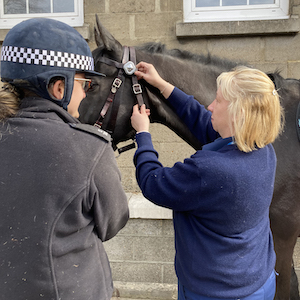 Aged seven, she started riding lessons at the Connaught Riding School, now the site of the London City Airport. And when she was 16, her dad bought Jeanette her first pony, a Welsh section D.
"Unfortunately, my father passed away that year. As is traditional, we gave him an East End horse-drawn funeral," she says
"The funeral director, Stan Harris of T. Cribb & Sons, found out I had my own pony and took me to see their horses and harness. I think this is where my fascination started. I was amazed by how it was stitched with all the embellishments."
Job to support her pony
After school, Jeanette had to find a job. "I needed to support my pony as my mum couldn't afford the both of us," she explained, "so I started working for the Civil Service Riding Club which then had their horses stabled at The Royal Mews in London.
"From there, I was fortunate enough to get a job with the Metropolitan Police [mounted branch] as a groom when I turned 18."
A move to the Mews
While grooming for the police, Jeanette married Kevin, a coachman at the Royal Mews where the couple also made their home.
With an eye still on saddlery, Jeanette approached Frances Roche, the Mews' resident Master Saddler & Harness Maker, about taking her on as an apprentice. And she had to be persistent…
"At first, Frances was cautious as I worked shifts and she didn't think I would be able to give it enough time," recalled Jeanette of their first meeting 20 years ago.
"However, after going into her workshop for a couple of months on my days off and after finishing an early shift, Frances agreed to be my Master on the Millennium Apprenticeship run by the SMS."
During her apprenticeship, Jeanette won the coveted Best Apprentice Award at the National Saddlery Competition.
"Even on completing my apprenticeship, I would continue to pop into Frances' workshop to gain more skills. I've been lucky enough to work on state harness for our royal family and for the Dutch and Swedish royal households too," she says.
Male dominated industry
As Jeanette gained more experience, she began assisting the Met Police's Master Saddler, Gary Garcia. Last year, Gary left his post to take a job nearer to his home, and Jeanette has taken over his role.
"I enjoy making the military-style bridles used in the mounted branch, as we have such a varied range of sizes of horses," she says.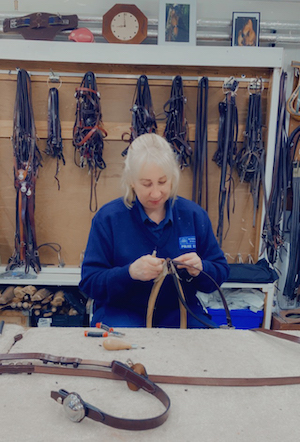 Taking over the workshop at Imber Court - the Met Police's mounted branch training establishment - has been a learning curve too.
"[I'm often] dealing directly with manufacturers and suppliers as a female in a male dominated industry," she says. "Most are happy to help - but there are a few!"
As she's moved up the ranks, Jeanette's love for leatherwork remains.
"I've made a few different items for fun; like a pink piggy bank, a leather wall-clock, and a ladies' 1930s inspired leather hat made from one piece of leather and embellished with leather flowers.
"Over the years, I've also seen different pieces of horse and rider equipment that was - or could be - made out of leather. And I can see that it could be designed slightly differently to improve it."
As someone always striving for improvement, it's no surprise that Jeanette Hutchinson has recently upgraded to Master Saddler, Harness Maker and Bridlemaker.
To nominate a bench saddler (or more than one), email editor@equestriantradenews.com and tell us why this person deserves to be put in the spotlight. Candidates must be SMS members.
Stitching photo by Two Paddles Axe and Leatherwork