Joint owner shares a tip for dealing with supply chain issues.
The new Phoenix saddlery shop at Solihull Riding Club is to be officially opened by Geoff Billington on 26 November.
The entertaining show jumper will also host an evening demonstration.
The 80 sq ft Phoenix store, run by sisters Korrine and Becky Pallas, is near the site of the old Horsesense shop at Solihull Riding Club.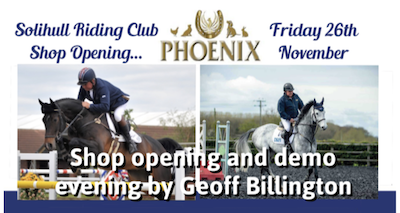 The busy West Midlands show centre is run by a committee and has 450 members.
This is Becky and Korrine's second Phoenix shop. They purchased a pet supplies retailer in Swadlincote, Derbyshire last August. By October 2020, they had expanded the equestrian side of the business to become Phoenix Equestrian and Pet Supplies.
"We're doing a lot of shows too - HOYS, Blenheim, Arena UK, Your Horse Live," Becky told ETN.
With more than 6,000 social media followers, Phoenix at Solihull Riding Club has a ready-made audience.
"We're trying to be different, and to make it a destination saddlery," said Becky. "We want people to come and enjoy visiting us, so we constantly change the look of the store.
"We're horsey here, and that's important because we can empathise with customers. We listen to their problems and they bounce ideas off us."
Corporate backgrounds
The sisters behind the Phoenix stores both have corporate backgrounds.
"Whatever else happens, we make sure it all adds up," said Becky. "I've worked in transport and logistics and understand supply chains."
So, what's her answer to the current supply chain issues? "Look for what you can control. Forward ordering is key," is her top tip.
Brands stocked at the new Phoenix store at Solihull Riding Club include Dublin, Kentucky, Covalliero, Cavallo, uvex, Weatherbeeta, Charles Owen, Champion, Toggi, Veredus, Equipe, Schockemohle, Chatham, Science Supplements, Neue Schule, Matthes, Ego7, Woof Wear and Fleck.
"We've had great support from suppliers," added Becky. "Zebra Products and Weatherbeeta in particular have been fantastic."