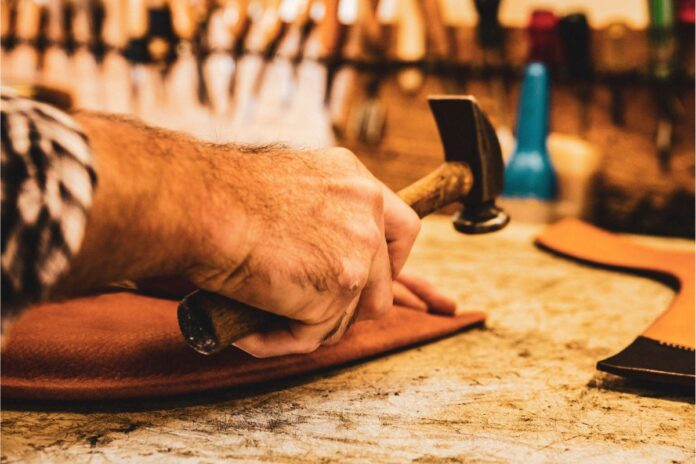 Award winner aims to have riding lessons.
Alec Brandwood has been named ETN/SMS Bench Saddler of the Month.
The award, presented in conjunction with the Society of Master Saddlers (SMS), recognises those who uphold the highest standards of leathercraft skills.
Alec was 21 when he started working for Albion Saddlemakers in Walsall.
"I kind of fell into the job," he confesses. "It wasn't a career I had considered. A couple of friends already worked at Albion and they encouraged me to join them."
Alec has taken a slightly different path into saddlery compared with some others. All his training has been in-house and 'learn as you go', rather than the usual apprenticeship.
"During my time at Albion, I've spent time in various departments - including the tree shop and the seating and straining shop - learning the trade," explains Alec.
"For the last 18 months I've been in the saddle shop where you physically put the saddle together."
He finds this aspect of saddle-making particularly rewarding because it involves putting all the parts of the saddle together into the final product and seeing the end result.
Alec enjoys the lacing-up process - how the tree and seat are stitched onto the panels of the saddle – the most. 
"It may be hard work, but this is when you really see the saddle taking shape. The whole process in the saddle shop is completing the circle of making a saddle," he says.
Getting in the saddle
Alec admits he didn't know anything about horses when he started out in the job. However, working in the saddlery trade has sparked an interest.
Albion wants to help its employees learn more about horses and they are encouraged to go along to competitions where Albion are exhibiting and discover more about the equestrian world.
Alec and a few other saddlers went to Badminton Horse Trials and enjoyed the whole experience.
"The next thing is to actually ride a horse," says Alec. "The aim is to have a few lessons."
A winning entry
Earlier this year, Alec was awarded first place in the Trainee Saddle (Trade) class at the 2023 SMS National Competition.
He entered a dressage saddle he had made with Rémy leather in a tobacco colour, a stunning light tan. While he admits to being really proud of it, he never expected to win first prize.
Alec was presented with his award in front of leading players in the saddlery industry following the competition at Saddlers' Hall in London.
"I couldn't believe it when my name was announced," he says. "I felt extremely proud of what I'd produced, of everyone who has helped me, and of course of Albion Saddlemakers.
"I'm not sure what happens to the saddle now, I'd like to take it home with me!"
The whole competition was a great experience, he added, and something he's really looking forward to entering again next year.
A hectic homelife
When Alec isn't at work crafting saddles, his home life is kept pretty full keeping up with his 15-month-old son, Freddie.
Being a busy dad means there isn't much time for hobbies, although he follows motorsports and, judging by the names of his two cats Dobbie and Fang, Alec is probably a Harry Potter fan too.
How to nominate a bench saddler:
Everyone is invited to nominate bench saddlers they feel deserve to be named ETN Bench Saddler of the Month. Candidates for the award must be a member of the SMS and based in the UK or overseas.

To nominate a bench saddler (or more than one), email editor@equestriantradenews.com and tell us why this person deserves to be put in the spotlight. Please include the bench saddler's name and business name too.