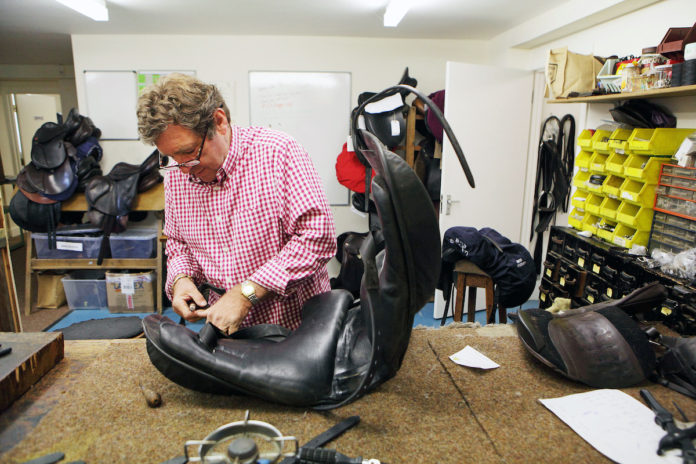 Meet the recipient of this month's ETN/Society of Master Saddlers (SMS) Bench Saddler of the Month award.
Maurice Emtage, who with his parents Bruce and Beryl Emtage started Colne Saddlery nearly 50 years ago, has been named ETN/SMS Bench Saddler of the Month.
He was nominated by Mark Romain of The Saddlery Training Centre.
"I first met Maurice in the mid-1980s," says Mark. "Since then, he has sent many apprentices to me for off-the-job training and we've become great friends.
"In years gone by, Maurice spent much of his time at the bench. These days, he's also a highly respected saddle fitter who mentors and assesses candidates for their SMS saddle fitting qualification.
"Maurice can still be found working at the bench - and I suspect that he'd be happy to have more time to do so. He has passed on his considerable skill and knowledge to many and is a truly worthy candidate for this accolade."
Parents had a riding school
Maurice Emtage is a Master Saddler, SMS Registered Qualified Saddle Fitter and former SMS President (2002-03).
Horses were in his blood, thanks to his parents running The Silver Horse Riding School at Sevenhampton in Warwickshire.
"I was brought up riding horses and ponies," says Maurice. "When I left school, I wanted to be associated with horses but not necessarily riding them every day. So I went to a saddler in Gloucester called Jack Edwards before going to Cordwainers College in Hackney.
"When I came home, my parents closed the riding school and between us we started Colne Saddlery some 48 years ago, with me at the bench."
Cheltenham based Colne Saddlery, now one of the largest saddlery retailers in the south-west, was initially a small shop at Gloucester cattle market with trade stands attending local gymkhanas and horse auctions. Over the years, it's become a familiar fixture on the show circuit from Badminton to events in Germany, Belgium and Italy.
The 1970s saw Maurice show jumping his home-bred horse to just short of Grade A while also drag hunting with the Farmers Bloodhounds.
Proud as punch
As a bench saddlery, Maurice has had some unusual requests over the years. But a commission to re-cover a rocking horse with a real pony skin is probably the most memorable.
Harness is his favourite item to work on. "I've made quite a lot of heavy horse harnesses over the years," he says. "I made a pairs set for some Suffolk Punches and then went to watch them ploughing with it on; this has to be the piece I'm most proud of."
Maurice's best moments at work are seeing how much difference well fitted tack can make to a horse's comfort and performance. "I also find it very satisfying when I have made and completed something," he adds.
And the worst part? "Dealing with challenging customers - I don't mean the horses!"
After almost five decades in the saddlery industry, Maurice is delighted that his daughter Gemma has become the third generation to join the family business.
When Maurice isn't busy working, a large gin and tonic has replaced the show jumping and drag hunting as his favourite way to relax.