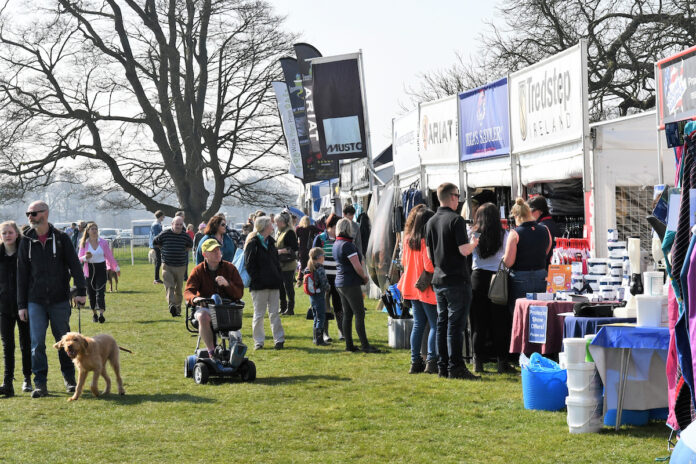 Trading opportunities spring up at horse trials across the country.
A horse trials organiser says it's "all systems go" to welcome traders to its ten events in 2022.
Trade stands will be available at all BEDE Events with a special focus on "bigger and better" shopping villages at The Eventing Spring Carnival (Thoresby Park, 1 – 3 April), Firle Place (14/15 May) and Osberton International (28 September – 2 October).
"It was great to see the trade stands so busy and doing good business at the end of this season and we want to make the shopping villages at [the above events] bigger and better in 2022," said Stuart Buntine of BEDE Events.
"Shopping and the trade stands are always a part of a visit to any event. We were very pleased with all the support we received at Osberton after such a difficult year for traders."
BEDE Events' season gets underway with Oasby (1) Horse Trials in Lincolnshire, always popular for a cross-country run on good going.
Firle Place in May is held in the South Downs National Park, just 60 miles from central London. Shelford (1), at the end of May at BEDE Events' base in Nottinghamshire, is followed by BCA (Berkshire College of Agriculture) in June.
Catton Park is just a week later, running for the first time since 2018. The Derbyshire estate has hosted a horse trials over its 250 acre parkland since 1993.
Aske Horse Trials in North Yorkshire follows in July. Then it's back to Shelford (2) at the end of August before heading to Osberton International with the season rounding off at Oasby (2) in the middle of October.
BEDE Events 2022 calendar
Oasby (1) Horse Trials 10th – 13th March 2022
The Eventing Spring Carnival 1st – 3rd April 2022
Firle Place Horse Trials 14th – 15th May 2022
Shelford (1) Horse Trials 29th – 31st May 2022
BCA Horse Trials 11th – 12th June 2022
Catton Park Horse Trials 18th – 19th June 2022
Aske Horse Trials 9th – 10th July 2022
Shelford (2) Horse Trials 27th – 29th August 2022
Osberton International Horse Trials (incorporating the British Young Horse Championships) 28th September – 2nd October 2022
Oasby (2) Horse Trials 15th – 16th October 2022