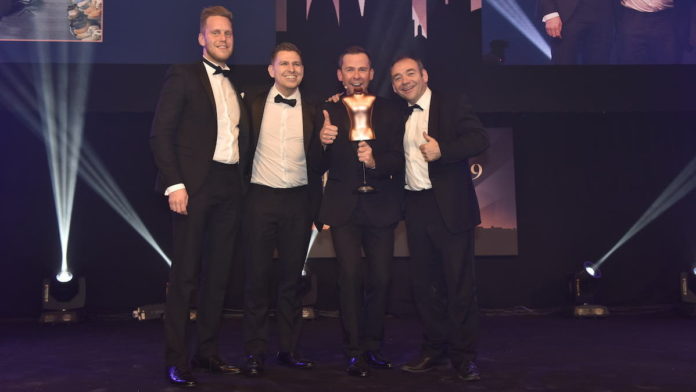 Gardiners and Footsure – the wholesalers of Muck Boots – was named Distributor of the Year 2019 in the Drapers Awards last Thursday (21 November).
The awards, presented in London, reward the top performing and most innovative businesses in fashion.
A family business, Gardiners and Footsure began in Gloucester in 1860. Five successive generations later, the group now distributes over 1.3 million items a year, employs nearly 150 people and is one of the largest UK footwear and clothing distributors to the trade.
Their diverse portfolio consists of globally recognised brands including Muck Boots, Caterpillar, Amblers Safety, Dunlop, Hush Puppies, Skechers, Magnum, Base London and Dr Martens.
"We are ecstatic to win… This award is a testament to the strength of the close and trustworthy relationships between the best global brands and our distribution channels," said buying director Ben Gardiner.
Speaking of "yet another" challenging year for fashion retail, Drapers editor Kirsty McGregor said: "The Drapers Awards are a welcome and timely reminder that many fashion brands and retailers continue to thrive, despite the challenges.
"The awards highlight how much creativity and innovation there is to celebrate in the industry. And while doomsayers often claim the high street is dead, our awards prove otherwise – showing retailers are pushing the boundaries of experience and design in bricks and mortar, as well as online."
The awards took place at Westfield London on Thursday 21st November 2019.
Pictured, from left, are Drapers account director Richard Gracey, Gardiners national sales manager Mark Pownall, BBC Radio 1 presenter Scott Mills and Gardiners buying director Ben Gardiner.