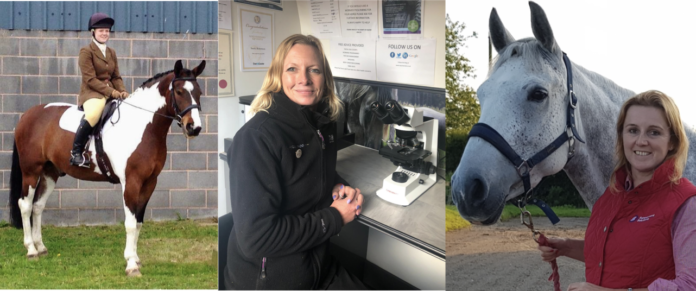 SQPs are suitably qualified persons authorised to prescribe certain categories of animal medicines including equine wormers.
Finalist Emma Wilkes (pictured left) is based at TFM Country Store in Whisby, Lincoln, where her role includes stock ordering and advising customers.
"I like to help my customers with their equine needs and hope to aid them in keeping happy, healthy horses," she said.
A previous Virbac 3D Worming Equine SQP of the Year has made it to the shortlist again. Hannah Wild (pictured right) set up online based Supplement Solutions in 2004.
"We pride ourselves in our knowledge and customer service," said Hannah, who three years ago launched her company's Annual Strategic Worming Programme.
The third nominee to make the final is Sandy Robertson (pictured centre) from Equine Endo, a mobile clinic that provides on-site sampling and testing.
"My employment background is equine welfare within the charity sector," said Sandy. "In this industry you get to see the detrimental impact parasites have on our horses, and this is where my passion started,"
The three finalists now face interviews with an industry expert. The winner, to be chosen for their knowledge of parasite control and animal medicine regulations, can look forward to a VIP trip for two to Olympia.
"We're pleased to have finalists from three different kinds of business, all of whom play a vital role in educating and advising horse owners on correct worming practices," said Rosie Naylor, Virbac equine technical product manager.
Virbac manufacturers wormer brands Equimax and Eraquell.