Leading brand undergoes test house analysis.
Veredus has become the first manufacturer of protective equine boots to certify its products with Ricotest, an Italian test house.
Home to extensive research facilities, Ricotest assesses a wide range of clothing and PPE against relevant standards and for CE certification.
In trials, Veredus' Carbon Gel Absolute front and rear boots were tested to simulate the impact of a rear horseshoe striking the front flexor tendon area.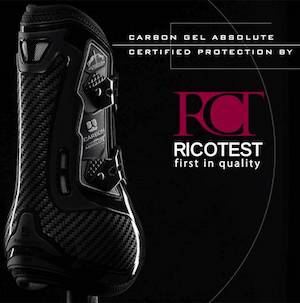 The effect of a shod hoof making contact with the opposite fetlock area – another reason why horses wear protective boots - was also assessed.
To measure impact, a 60-degree V-wedge and hemisphere [rounded] tool were used on the boots, applying energy of 25 and 50 joules respectively.
The force used was similar to that applied when testing motorcyclists' back protectors, reported the Ricotest researchers who confirmed the boots remained intact during the trial.
"It's a really positive thing that the Ricotest certification verifies just how protective these boots really are," said Simon Middleton, managing director of Zebra Products which distributes Veredus in the UK.
The Carbon Gel Absolute boots were also subjected to an abrasion test by placing a portion of the boot's shell on a sandpaper roll.
To pass the test-house's criteria, the material loss must be less than 150 cubic mm; the boot returned a loss of 29 cubic mm.
In addition, an analysis was made of the boot's materials to verify the absence of potentially harmful compounds.