Award winning saddle fitter came to the UK to ride professionally…and the rest is history.
Line Hansen has been named ETN/SMS Saddle Fitter of the Month for January.
The award, presented in conjunction with the Society of Master Saddlers (SMS), recognises those who uphold the highest standards of leathercraft skills.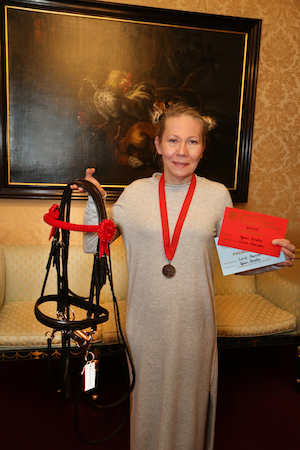 Line was nominated by Jennifer Roy of Springfield Saddler,who says:
"Line was my tutor at Capel Manor College where she instilled the need for quality in terms of both safety and aesthetics.
"She has a deep and sincere passion for guiding, encouraging and supporting her students. Line's a regular winner at the SMS National Saddlery Competition and a great example to all aspiring saddlers."
About Line Hansen
As a girl, Line spent many hours with her father in his workshop.
"He was very keen that we should spend time together," she says. "Consequently, I spent many hours of my young life holding things for him while the glue was drying."
Line has an equestrian background. She came to the UK for a gap year when she was 18 to ride professionally for a Baron Dewykersloth in Dorset.
"To this day, I'm still on my gap year!" she laughs. In fact, the riding became the foundation for her future career.
"While I was riding professionally, I gained more and more understanding of the importance of well-fitting saddlery to ensure optimal performance and comfort of the horse," she explains.
Not riding for a living at 50
When she was in her early 20s, Line decided she wasn't still going to be riding for a living when she was 50.
"It's hard work, in all weathers, with a chance of getting hurt." Therefore, she began to pursue her burgeoning interest in saddlery. 
Despite being based in Salisbury, and with five horses of her own to compete, Line spent three "fantastic" years at Cordwainers' College, travelling up to London every day.
At the end of her third year, Master Saddler Peter Lewis [then of Pointings Saddlery in Bath] contacted her with a job offer. "I worked with Peter for four years and learnt a lot from him about saddle fitting," she says.
Next, Line set up her own saddlery business near Salisbury. But she soon enquired about a part-time job at Cordwainers' College. "I missed the wackiness and creativity of the place," she admits.
Since 2000, Line has run the college's saddlery department, moving to Capel Manor College in Enfield when Cordwainers' College was merged with London College of Fashion.
Currently, she manages and teaches two City & Guilds full-time programmes in saddlery, known as the Cordwainers' Diploma.
Competitions and banister rails
Line enjoys entering the SMS National Saddlery Competition, especially the President's Choice class. "It encourages one to think outside the box and use one's saddlery skills to create something non-saddlery," she explains.
"I'm most proud of the clarinet case I produced a few years back, but my favourite item is a little leather stacking toy I produced for the President's Choice class some years ago. To this day, however, I've yet to produce the perfect item!
"When I was working at Pointing's Saddlery, we were commissioned by Clark's Shoe Shops to cover 183ft of banister rail in green leather – all stitched as you would a cricket ball."
Industry's future
Away from saddlery, Line enjoys playing music, cycling and exploring the architecture and museums that London has to offer.
She is optimistic for the industry's future. "The world of saddle fitting is developing amazingly for the good of the horse," she says.
"As for education of future saddlers, there are now more opportunities than ever with additional courses such as bridle fitting and flocking courses, as well as lots of other training opportunities.
"The Covid situation has led to us having to create hybrid [online and face-to-face) training and courses for saddlery students, which I think we will see a lot more of in the future."
Line still loves horses and working with leather. But to see her students doing so well at the SMS national competitions every year gives her particular joy.
How to nominate a bench saddler:
Everyone is invited to nominate bench saddlers they feel deserve to be named ETN/SMS Bench Saddler of the Month.
Candidates must be a member of the SMS, based in the UK or overseas. To nominate a bench saddler, email editor@equestriantradenews.com and tell us why this person deserves to be put in the spotlight. Please include the bench saddler's name and business name too.