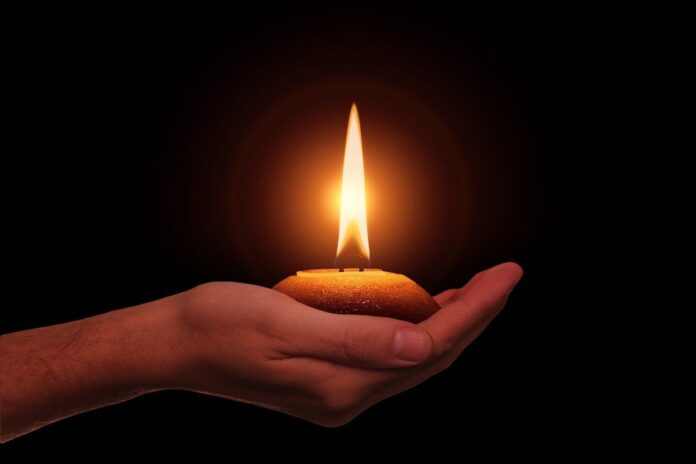 Horses featured throughout a fascinating life.
The founder of Equinomic Products has died. Hans-Jurg Christoph (known as Hans) Schaupp was a dressage trainer who developed the first gel saddle pads.
Hans passed away on 16 November, aged 79. He had prostate cancer for eight years.
Born in Basel, Switzerland, as a young man Hans served a chocolatier apprenticeship in the family bakery.
For his national service, he joined the Swiss Cavalry. While caring for his horse at a local stables, Hans met his future wife, Brenda Frances Watts, who was working there.
The couple married in 1963. They sold the bakery business – after presenting the cleaner with Hans's masterpiece, a coach horse made from sugar – and moved to England.
Hans took a job with racing trainer Walter Nightingale at Epsom Downs, not long before the Schaupps' first son Christopher D'arcy was born in 1964.
Hans and Brenda then bought Saddlecombe Stables in Headley near Epsom, running it as a livery and riding school business. They became friendly with Charles Harris, a Fellow of the British Horse Society (BHS), who persuaded them to apply, successfully, to become an approved BHS riding establishment.
Film extra
In 1967, Hans appeared on the big screen as an extra in The Charge of the Light Brigade. During filming, he loaned his horse Quebec to lead actor David Hemmings to ride.
In 1969, Hans and Brenda's second son Jason Andreas Schaupp was born. Around this time, some American friends convinced Hans that there was a huge demand in the US for riding instructors just like him. So he went on a three-week exploratory trip.
Hans booked a return flight with Pan Am for £90 and a rover ticket for £60 which enabled him to fly anywhere on regional US airlines for 30 days. This 'good deal' kept him off the major routes, and meant he made many stops and saw much of America.
Apart from being enticed to start a new life in the States, there was also the matter of the M25. For many years, legal battles had raged over the London orbital motorway's proposed route. By now, it was clear it would pass within 500 yards of Hans's Saddlecombe stables.
So, in 1971, he found a tenant for his UK base and left to make a new living in America. The Schaupp family was initially based at Ridgeview Stables in Wisconsin.
American dream
Although it reminded him of Europe's landscapes, Hans found Wisconsin bitterly cold. After a year, he took up a new position with Benjamin Hardaway III at the Midland Riding Centre in Columbus, Georgia.
One of America's richest men thanks to his successful construction company, Mr Hardaway ran the best pack of fox hounds in the country. One of Hans's tasks was to provide mounts for and to escort notable visitors, including the Earl of Mountbatten.
Next, Hans was approached by wealthy banker Roy Green to look after the animals on his 1,000-acre estate in Alabama. He particularly enjoyed driving six Belgian draught horses which pulled a beer wagon through the nearby town on festival days.
Horses remained Hans's hobby too. He bought a 15.3hh three-quarter bred from his farrier for $150 and named him Triton. Hans and the bay gelding went on to win horse trials and dressage competitions.
By now, Hans was making his name as a dressage trainer; so much so that Palmolive heiress Trudi Peet – who had ambitions to compete in the 1972 Olympics – approached him with a job offer.
Having accepted the position, Hans rented a U-haul trailer and set off with his family on a 2,500-mile, five-day journey to Carbondale, Colorado. His new location also enabled him to ski again, and he made new friends on the slopes in Aspen.
Three musketeers
After three years in America, an offer from a prospective purchaser of Saddlecombe Stables saw Hans heading back to the UK - only discover that an embezzlement had taken place. Although a portion of the money from the property was lost, some was recovered via the High Court.
During the next phase of his life, Hans met up again with his 'three musketeers' - Charles Harris, Dennis Colton and Geoff Dorset. Soon he was travelling all over the south of England giving riding lessons and schooling horses.
Some clients were former customers of Saddlecombe, among them Judy Brady, who lodged on the Beaverbrook estate near Leatherhead. She introduced Hans to Laura Aitken, Lord Beaverbrook's granddaughter, who also joined his growing number of pupils.
Through his Beaverbrook connections, Hans met the now famous animal sculptor Jonathan Kenworthy who promptly asked his advice about equestrian art. Hans's solution was to teach Jonathan to ride. The ensuing friendship sparked Hans to begin sculpting clay, much as he had done when working with chocolate as a young man.
Another of Hans's riding clients was Charles Hughesdon, who would send a helicopter to pick him up and return him after each lesson. The experience inspired Hans to obtain his private pilot's licence.
Equinomic Products
In 1977, Hans set up his own equestrian manufacturing business - Equinomic Products. His first invention was a series of plastic stencils called Quartermarkers – and he secured funding from the Department of Trade for a stand at the Equitana show in Essen, Germany.
Hans and Brenda demonstrated Quartermarkers with the help of a large piece of blue carpet stuck to a board. As many as 50 people often crowded onto the stand to watch the spectacle.
More ideas developed by Hans included a Handy-scraper and a waterproof/breathable rug using a new material called Gore-Tex.
The early 80s saw Hans supplying toys to supermarkets, specialising in the Christmas gift market. Some were more successful than others.
One such toy was a Glue-ball which involved a gel type substance taking on monster shapes. Hans discovered that the constituents of the Glue-ball were not patented, apart from the rubber part made by Shell.
He also realised that by adding the right type of oil and 'cooking' the gel, he could create a thermoplastic visco-elastomer that held its shape, even when punctured.
It struck Hans that this new material was perfect for use in shock-absorbing saddle pads. So he took his 'memory gel' to the Spoga trade fair in Germany.
Mike Williams, sales director of E. Jeffries, immediately spotted the potential. The first units were ordered – and Equigel Saddlepads were born.
New opportunities in other markets arose for Hans's gel products. Anthony Rollason, a salesman who worked for a company making medical models, noted that it had similar properties to soft tissue in the human body.
Both being entrepreneurial, Hans and Anthony produced a pad for surgeons to practice their suture techniques. It was the first of many medical developments that went on to be used to train doctors in various procedures.
Enjoying life
In 1992, Hans bought Passfield House Farm, near Liphook in Hampshire, converting the outbuildings and barns into workplaces.
In later years, he bought an ex-racehorse called Tomal, began playing golf, continued to enjoy family skiing holidays and to fly a four-seater aircraft.
When his cancer was diagnosed on his 71st birthday, Hans tried many trailblazing treatments. But mainly he was determined to carry on loving his life.
Image by Gerd Altmann from Pixabay