What better way to mark our Queen's 70th year on the throne than with British equestrian companies' success stories?
British equestrian products are world famous for their innovation, quality, technology and craftsmanship; therefore our sector can bristle with patriotic pride as we celebrate The Queen's Platinum Jubilee.
Best of British
Saddlery industry stalwart Richard Godden celebrates his own platinum anniversary this year, having clocked up 70 years in the trade. The 84-year-old, world-renowned side saddle expert is still teaching and inspiring other saddlers.
NAF is to continue as Official Supplier of Equine Supplements and Horse Care Products to the British Equestrian Teams. While the best-known element of its partnership with British Equestrian is NAF's support of the teams at championships, the company is also involved with the World Class Programme all year round – its team of experts advising and supporting horses, riders and grooms when required.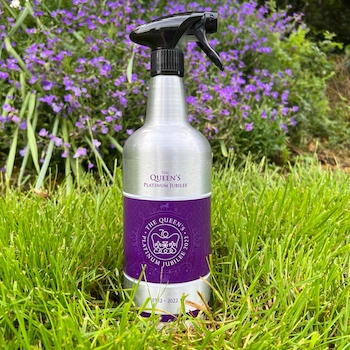 Carr & Day & Martin has held a Royal Warrant for the supply of products through the entire reign of Queen Elizabeth II – and indeed since the reign of King George IV in 1765. The company is marking the Platinum Jubilee by donating £2 to World Horse Welfare for every commemorative bottle of Dreamcoat sold.
British manufacturer WB Stubbs – home of the Stubbs England brand – makes its stable and tack room equipment at its East Midlands factory. Established in 1836 and still run by the same family, Stubbs developed the original trailer tent in the 1920s.
Spillers was founded by Joel Spiller − the son of a Somerset ironmonger − and Samuel Browne in 1880, when they set up a milling business in Cardiff. The company imported wheat from India, Russia, Australia and America in its own ships. It subsequently moved into the production of biscuits and animal feed as a side-line.
Animalintex – the famous poultice found in every horsey first aid kit - was invented by Robinson Healthcare in the mid-1930s. It's held a Veterinary Medicines Directorate (VMD) licence since 1 September 1992.
Feed company Dengie, holder of the Queen's Royal Warrant since 2007, has been upping its sustainability with recycled plastic packaging, electric cars and solar panels.
Saracen Horse Feeds' company archives include a cheque signed by Winston Churchill for a delivery to his home at Chartwell.
In 2020, the Queen shared her favourite horses of her lifetime with Horse&Hound readers.
BETA's annual Summer of Safety stretches over a celebratory 70 days from June to September this year. The campaign will remind consumers about the importance of equestrian products to help keep horses and riders safe. Find out more at www.beta-uk.org
Read more British success stories and fascinating facts in the June issue of ETN.