Value for money for consumers; merchandising for retailers.
SmartLick is the no-frills feed block from the Horslyx Stable.
The high quality, economy block keeps more pennies in your customers' pockets for other purchases, say the suppliers.
The vanilla flavoured, poured block is manufactured using a different method from Horslyx. The result is an affordable product for all equines.
SmartLick contains a blend of essential vitamins and minerals to help maintain ideal condition, while a yeast-based prebiotic supports beneficial intestinal bacteria.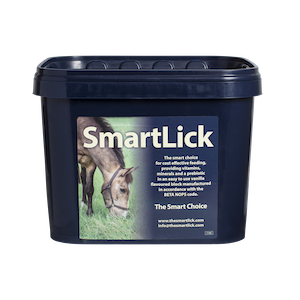 Antioxidants and biotin are included for all-round health.
SmartLick is manufactured in accordance with the BETA NOPS code and therefore monitored for the presence of specified Naturally Occurring Prohibited Substances (NOPS) as required under the rules of racing and other affiliated competitions.
It's available in 12.5kg tubs (SRP £19.99). Each tub should last a 500kg horse approximately 50 days at recommended daily intakes of 250g per day. The cost per day is 40p.
SmartLick point of sale material and remote training packages are available from your account manager. Find out more at www.thesmartlick.com
Coins Photo by mihow from FreeImages