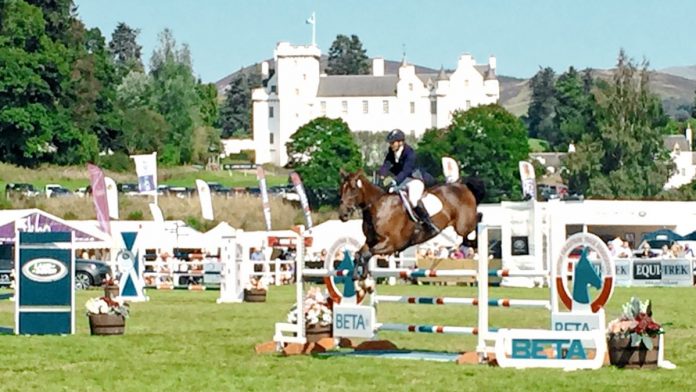 Show trader and ETN diarist Guy Roper reports from Blair International Horse Trials (21 – 25 August).
Blair is the event with the big heart. The setting is superb and the organising team is flexible enough to throw the necessary resources at an emerging problem. It all makes for an accommodating atmosphere.
Everyone is unfailingly friendly, including the punters. I now have new chums among the traders with stands I'd never seen before. Even the traffic marshals were cheerful - unless you were a wee bit late, in which case they look severely at their watches.

With very few exceptions, and some randomly piddling dogs - whose oblivious owners go into a zen-like trance contemplating the cloud-dappled beauty of the surrounding mountains while the crime is committed - this show has one of the politest crowds you'd like to trade with. Of course, they don't throw their money about; but the business is there, even if you have to work for it.

The weather was, frankly, variable. I had a few nerves on receiving a pre-event email about vehicle movements and set-up. But the organiser's caution worked out and we got on with little hassle. Getting on and off site was easy after two good days but the overcast, showery Wednesday, Thursday and Friday had a few people worried.
Saturday dawned misty but with the promise of the sun breaking through, which it did, late morning, followed by a sharp shower at lunchtime.
I watched, surprised, as people in tees, shorts and polos ignored the downpour. One of the punters summed it up: "If ye stop for a wee shour ye'll no get anything done…" That's an attitude I like, particularly when I looked at their spend. In less hardy venues I'd have had a stand full of people sheltering and not even looking.

I hadn't realised in advance (marketing issues or me not reading things?) but this was Blair's 30th year. Blimey. That made me think. Not only how the event has changed, but how the trading world has changed in three decades.
Thirty years ago, there were cash handling issues I mostly don't have now; 20 years ago we processed card payments through the zip-zap machine with carbon copies which occasionally sales assistants gave to the punters. Even five years ago some organisers didn't realise WiFi was essential to the conduct of business.
Now, card payment is routine and if I had a satellite link, like some, I could not only process the transaction but monitor stock control and trigger orders. All from a glen in the Highlands that's still waiting for its own dual carriageway.

The other thing we didn't have back then was anything that helped us look at the way we traded. Of course, you could have a look around other chums' stands and get a few ideas; but there was nothing independent.
At Blair's BETA sponsored evening drinks reception - excellent wines and beers, and a good range of soft drinks for those staying off site, but maybe a few nibbles would be nice after a long day - best stand awards were dished out. It was interesting to hear the judges' comments that not only the stock and its presentation were key criteria but also engagement with customers and depth of product knowledge.

Let's face it, Blair was a bit up and down, and overall most chums found it a bit flat - same as last year, same as most of the season. And what makes the payment system easier makes it simple to do other business on the mobile when times are quiet.
But beware; if you're sitting at the back of the stand fighting the internet, you can miss the passing pound because its attention span is becoming as short as yours for the same infinitely connected reason.

So far as I know, I haven't actually seen a punter in front of me price-comparing my own website with my stand, but I'm sure it's happened. At a show, it's my chance to engage, be a person not an avatar, build a relationship, give them a reason to come back next year or buy online from me because there's a face to a name.

I will, all things being equal, go back to Blair next year, because I enjoy it. I won't make a fortune but a different crowd will get to know me. Some will buy online, most will come back again the following year. It's that kind of show.

Cheers,
Guy