New way to feed forage impresses judges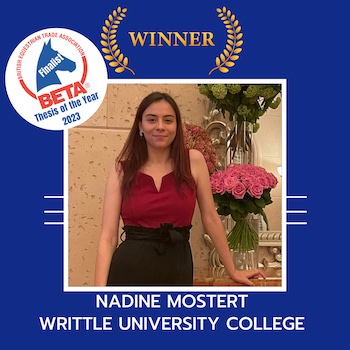 Nadine Mostert is the winner of the 2023 BETA (British Equestrian Trade Association) Equine Thesis of the Year Award with her dissertation on "Oat straw in the Haylage Diet: Exploring the effect on equine weight, bowel movements and chewing and consumption."
The Writtle University College equine performance and business management graduate undertook feeding trials on a group of horses in an attempt to expand knowledge and change attitudes around the inclusion of straw in equine diets.
Nadine will receive a trophy and cash prize after four finalists presented their theses to a panel of judges during an online event on Sunday, 29 October. 
Nadine has gone on to pursue a Master's degree in international marketing which she is currently undertaking at King's College, London. 
"Bringing research to life"
The judges praised all four 2023 BETA Thesis of the Year finalists for their practically applied topics of real relevance to the equine industry. 
"The judging panel would like to congratulate each of the finalists on the successful completion of their dissertation. During the competition their presentations allowed them to elaborate on their written work, bringing their research to life," said Georgina Crossman who headed the four-strong judging panel.
"The selection of the winner was a unanimous decision by the judging panel. Her dissertation was highly relevant to horse owners and the wider industry. Nadine also translated her work in a very accessible way for the lay audience in her infographic."
This is the eighth year BETA has run the competition which recognises the best in undergraduate study across the UK and Ireland. An audience from the public, industry and academia watched the finalists' presentations online.
Universities and colleges offering equine-related degrees are each invited to submit one undergraduate dissertation entry for the annual BETA Equine Thesis of the Year.
Following preliminary judging, the following made it through to Sunday's final:
Bishop Burton College – Lauren Wain. An Investigation into the Influence of Balance and Proprioceptive Pads on Equine Posture and Kinematics
University of Liverpool – Hannah Shanks-Boon. The Effect of Body Condition Score on Tongue Size, Soft Palate Angle and Basihyoid Depth in Horses
Writtle University College – Nadine L Mostert. Oat Straw in the Haylage Diet: Exploring the Effect on Equine Weight, Bowel Movements, and Chewing and Consumption
University of Limerick – Laura Dayot. Application of Near Infrared Spectroscopy (NIRS) to Measure the Composition of Mare's Colostrum and Milk
The judges were Dr Georgina Crossman – a research consultant and owner of GK Crossman Consultancy; Dr Katie Williams – the technical and product development manager at Dengie; Dr Dee Pollard – a veterinary research consultant and researcher at the British Horse Society; and Liz Benwell – editor of Equestrian Trade News.