Find out who won 2021 BETA Business Awards.
The 2021 BETA Business Awards were presented in an online ceremony last week (11 March).
The annual accolades recognise outstanding achievements and significant contributions to the equestrian industry by companies and individuals.
The awards ceremony host was Philip Ghazala, with presentations from BETA president Jane Holderness Roddam and representatives from each award sponsor. This year's winners are…
BETA EXPORT AWARD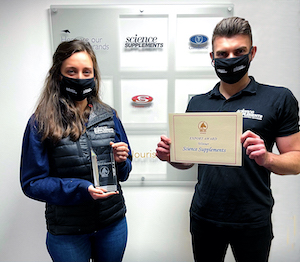 Winner: Science Supplements – Hartwell, Northamptonshire
Presented by Jane Holderness Roddam, BETA president
This award is open to companies of all sizes that have shown substantial and sustained increases in export activity over a three-year period.
The judges said: "The winner impressed with its ability to customise its export strategy to suit the market's individual needs."
WEATHERBEETA GROUP RETAIL EMPLOYEE OF THE YEAR
Winner: Jasmin Khan – Cork Farm Equestrian, Ashford, Kent
Presented by Doug Walker, president, Weatherbeeta Group
This award celebrates an employee who has shown excellent customer service, great product knowledge and a passion for professional retailing.
The judges said: "The winner is enthusiastic and dedicated, and has a clear business head and a real focus about her work."
TSM MARKETING EFFECTIVENESS AWARD
Winner: The Saddle Bank – Peterborough, Cambridgeshire
Highly commended: Horslyx/Caltech
Presented by Tim Smith, MD, TSM Marketing & Communications
This award, now in its second year, sets the benchmark for excellence in effective communications, with entrants showing the increased value they have created for their brands.
The judges said: "The Saddle Bank showed what a targeted strategy, despite little budget, could do to achieve its goals. It made great use of Facebook ads, and search engine optimisation really works for it in terms of website traffic and – most importantly – sales."
CITATION TRADE SUPPLIER OF THE YEAR
Winner: Battles – Lincoln
Runner-up: Perry Equestrian – Cradley Heath, Staffordshire
Presented by Nigel Lea, national partnerships manager, Citation
This award, returning after a year's break, is presented to the manufacturer, wholesaler or distributor judged to offer the best in delivery, customer service, product knowledge and awareness of retailer requirements.
The judges said: "Battles provided consistent and steadfast support to its customers through difficult times. It continuously offered excellent delivery and customer service, and was there for customers when needed."
STUBBS ENGLAND NUTRITIONAL HELPLINE OF THE YEAR
Winner: TopSpec Equine – Thirsk, North Yorkshire
Runner-up: Baileys Horse Feeds – Braintree, Essex
Presented by Ross Bradwell, director, STUBBS ENGLAND
This award recognises the important role that reliable and accessible nutritional advice plays in helping consumers to choose appropriate feeds for their horses and ponies.
The judges said: "TopSpec has won this award for an incredible 12th time by consistently showing professionalism, expertise and a caring attitude towards callers. It follows up enquiries and provides clear links to stockists."
SEIB RETAILER OF THE YEAR
An award for tack shops and feed merchants that is divided into two categories.
Equestrian Retail Store
Winner: 1st Choice Horse Supplies – Larkhall, South Lanarkshire
Runner-up: RB Equestrian – Milton Keynes, Buckinghamshire
Highly commended: Barnyard Pet & Equestrian Supplies – Northwich, Cheshire
Presented by Thomas Hutchins, SEIB
The judges said: "This was an incredibly close competition, but what shone through with all the finalists was customer service, expertise and a desire to maintain an excellent shopping experience while keeping staff and customers safe.
"1st Choice Horse Supplies was outstanding. It excelled in offering empathetic service and a caring and considerate approach, and had a real interest in the needs of customers."
Online/Mail Order Retailer
Winner: RB Equestrian – Milton Keynes, Buckinghamshire
Runner-up: Redpost Equestrian – Totnes, Devon
Presented by Thomas Hutchins, SEIB
The judges said: "Both winner and runner-up showed exemplary customer service, with clear, easy-to-navigate websites and telephone back-up that was second to none. With knowledgeable staff and a wealth of information available online, RB Equestrian just pipped Redpost to the post."
* The Equine Careers Sales Representative of the Year and the Equestrian Event of the Year supported by Henson Franklyn awards were held over until 2022. The BETA Lifetime Achievement Award has been postponed until BETA International, in September.
BETA executive director Claire Williams said: "Congratulations to all our winners – everyone did so incredibly well against such strong competition. The past year's combination of coronavirus and our departure from the single market have probably brought us more personal and professional challenges than we have ever faced before.
"I am delighted, therefore, that the virtual awards – the 18th BETA Business Awards – allowed us to celebrate members of our industry who have so bravely risen above the trials of the past 12 months. They should all be justifiably proud of their efforts. I would also like to extend my thanks to all our sponsors, without whom the awards would not be possible."
• The virtual 2021 BETA Business Awards was produced by Lemon Zest Events.