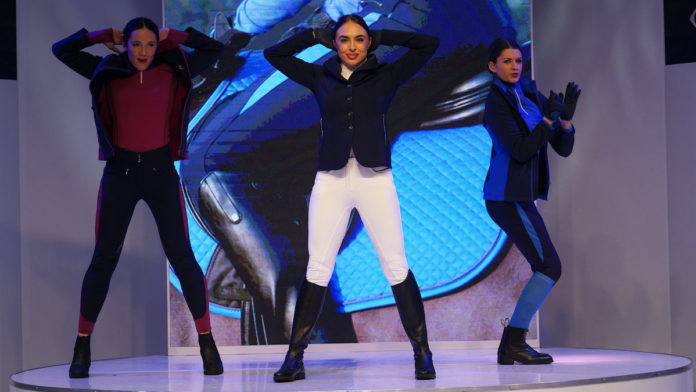 BETA International ended its final year at the NEC, Birmingham, on a high with a visit from Her Royal Highness the Princess Royal, who addressed the show's visitors after being introduced to exhibitors on a tour of the halls.
"I do hope coming here helps you to focus on what to do, perhaps do it better and see where the new ideas are coming from, and what people's expectations are," she said. "Many of you are small- to medium-size enterprises and that adds its own challenge. Staying in touch through BETA, its membership and this show, I hope, makes life a little bit easier.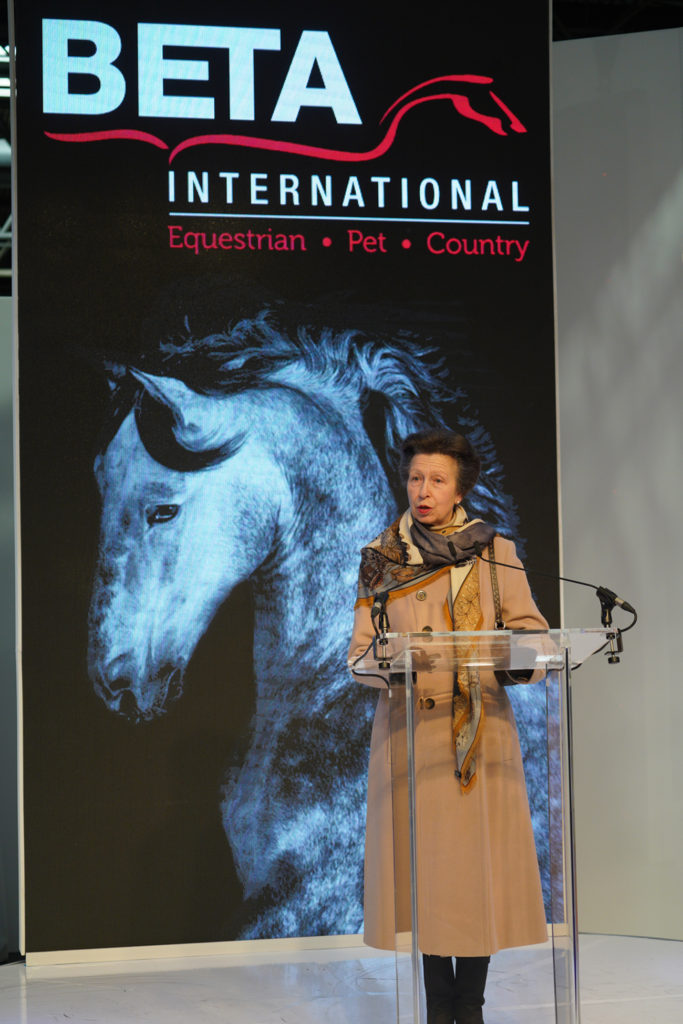 "The show has played a real role in developing new businesses and helping established ones to maintain their position, not just nationally, but internationally. It is still fundamentally important to you as a sector."
Following the Princess Royal's speech, BETA International organiser Claire Thomas presented her with a donation for the Riding for the Disabled Association, of which she is president.
Meanwhile, plans were announced for the show to move to NAEC Stoneleigh, in Warwickshire, next year, bringing a frisson of excitement and anticipation to the halls. News of the relocation certainly proved a talking point – but did not detract from the business and buying taking place at BETA International 2020.
Hundreds of new products – many unveiled for the very first time – took the limelight, enjoying a centre-stage position and providing a powerful attraction for retailers keen to source new stock and gather ideas and inspiration.
Many of the brightest and best were highlighted in the Shires Equestrian New Product Gallery and the Pet Product Gallery, a showcase of the pet world's finest, introduced to the show for 2020.
ITV newscaster Alastair Stewart was back in the halls as the popular host of Talking Business, BETA International's thought-provoking industry debate on Sunday at The Charles Owen Spotlight.
This year's panellists were Abbey England managing director Richard Brown, Shires Equestrian joint managing director Marcus Cridland, Redpin Publishing commercial director Andy Haines, Highfield Equestrian and Online for Equine director Victoria Highfield and Pet n Pony managing director Chris Hughes.
Discussing the changing dynamics of the retail environment, Victoria noticed the consumer market being more "price driven", while Chris said it was important to "create an experience in-store" to fight back against falling footfall and Marcus added: "Independent retailers have always been the lifeblood of our industry."
All the panellists agreed on the need to be eco-conscious. "We use as little plastic as we can because that's a sustainable model that we as a family wish to uphold," said Richard. Andy recognised that posting magazines in a paper envelope, rather than plastic, was more expensive but necessary.
Retailers in the audience also spoke about their attempts to be responsible and respond to customers' increasing demands to operate in an eco-friendly way.
Another attraction at The Charles Owen Spotlight was An Audience with Tom MacGuinness, in which the Horseware Ireland founder spoke about his new-found passion as an endurance rider and his preparations for this year's FEI World Championship in Italy. "Endurance is the most noble of all equestrian disciplines," he said. "That's what a horse was designed to do, to take you from A to B."
The Spotlight remained busy throughout the show, with a full programme of presentations – and the Fashion Show, which took place three times daily on Sunday and Monday, and twice on Tuesday.
Catwalk cool was hot gossip as Victoria Thomas, of Red Ice Productions, put rider wear and country clothing through its paces. A professional dancer, Victoria brought a tantalising twist to the shows with her dancing models, racy dance routines and a music playlist set to keep your toes tapping for weeks.
Buyers pulled up their seats to take in the view as some of the biggest names in the business – Covalliero, Bucas, GoLeyGo, Rupert & Buckley, Percussion, HKM, Hy Equestrian, Coldstream, My LeMieux, Gallop Equestrian, USG Germany, Tekna and Horseware Ireland – strutted their stuff before a captivated audience.
New for 2020 was the Seminar Theatre, with a vibrant collection of sessions, including AMTRA-accredited companion animal and equine CPD modules for SQPS.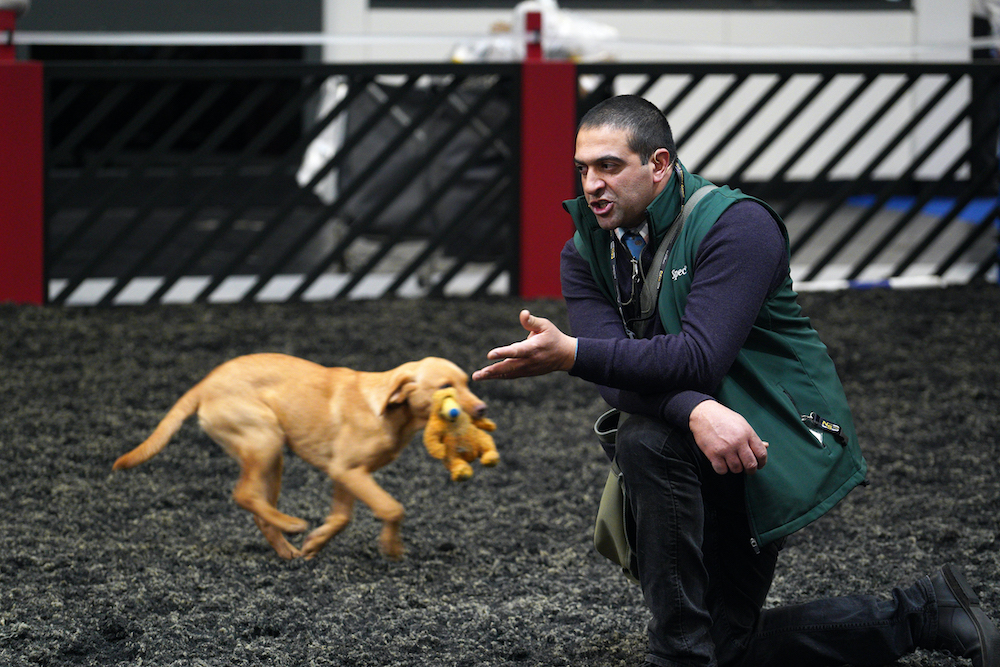 The Liveryman Demonstration Arena was also making its début, bringing high-octane drama to the show in the shape of working dog training with Ricky Moloney, dog agility with Liz Finchett and saddle fitting with master saddler Kay Hastilow. The arena also included clipping demos, along with teach-ins on bridle and bit fitting.
The spirit of competition burned brightly at the show, with this year's new-format Innovation Awards seeing a flurry of truly original products take the top spots on the podium. Sponsored once again by Equestrian Trade News, the show's media partner, these prestigious business accolades were a winner with the industry as trophies were handed out in four categories – Design Innovation, Technology Innovation, Sustainability Innovation and Judges' Choice.
A specially selected panel of judges, each an expert in his or her own field, rose to the challenge of selecting the winning products. This year, they were Arian and Julie Charley, of Townfields Saddlers, Dr Georgina Crossman, administrator of the National Equine Forum, and Sonya Cox, a key member of the NEC's sustainability working group.
Winners were presented with their awards by ETN editor Liz Benwell. They were: The Wide Boot Company (Design Innovation), Albert Kerbl (Technology Innovation), Horseware Ireland (Sustainability Innovation) and Westgate Labs (Judges' Choice).
High quality stands are a hallmark of BETA International and the work and creativity of companies going that extra mile to create an attractive and effective retail environment is celebrated in the show's Best Stand Awards.
All exhibitors are automatically entered into the competition, which was independently judged by Leanne Silman, who has spent more than 10 years at London advertising agencies such as M&C Saatchi, and Olivia Hayward, a London College of Fashion graduate who specialises in styling, branding and creative merchandising. After touring the halls, they selected The Original Muck Boot Company as winner of the Best Large Stand Award (32 sq m and over) and Likit Products for the Best Small Stand Award (under 32 sq m).
During each day of the show, the Society of Master Saddlers showcased the high standard of work by saddlery apprentices and students. Sunday saw Saddlery Training Centre students make a raised browband, with the challenge won by Gudrun Thuesen. Monday's competition, to make an Irish martingale, was won by second-year Capel Manor College student Georgie Chapman. Tuesday's competition, to make a bridle headpiece, was won by first-year Capel Manor College student Emise Baktai.
Winners of the show's awards were announced and presented with their prizes during a special ceremony at The Charles Owen Spotlight on Sunday evening, when visitors and exhibitors gathered to congratulate them. Main sponsor Neue Schule also presented graduates of its Bit & Bridle Fitting Course with their certificates.
This was followed by free After-Show Drinks, where industry colleagues and friends gathered to celebrate a successful first day of buying and business with the show's organising team over glasses of bubbly and canapés.
BETA International organiser Claire Thomas said: "BETA International 2020 was a sensational show for both exhibitors and visitors, who were delighted with our new feature areas and the wide range of exciting new products in the halls. The royal visit was the icing on the cake for everyone in the halls and a timely occasion as we said goodbye to the NEC after 26 years and prepare to move on to pastures new.
"We are incredibly excited about the opportunities that lie ahead and will be unveiling all our plans very soon. But, for now, we are thrilled with this year's event and are celebrating its success. We would like to extend our thanks to all supporters of the show and our sponsors and suppliers – Neue Schule, Equestrian Trade News, Charles Owen, Shires Equestrian Products, NAF, Henson Franklyn, VetSpec, Toggi, Stubbs England and Aspfase – who really make this all possible."
BETA International 2021 will take place at the NAEC Stoneleigh, Warwickshire, from 24 to 26 January. There will be an exhibitors' open afternoon on Tuesday 3 March 2020, starting at 1pm, when all are welcome. For information about the open afternoon and exhibiting at the show, contact Darren Mottershead, telephone +44 (0)1937 582111 or email darrenm@beta-int.com.