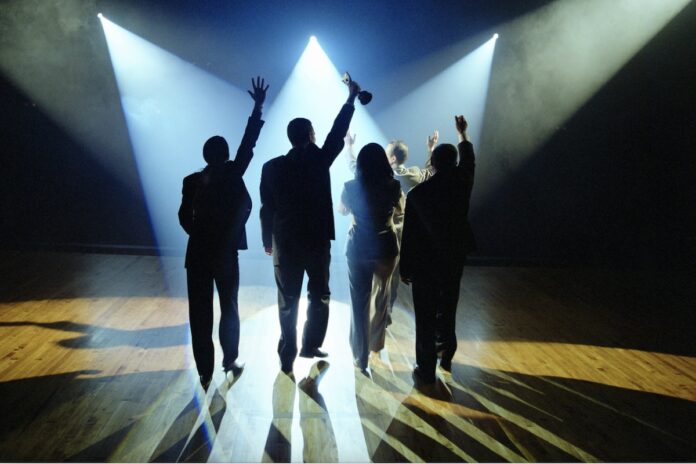 Companies and individuals who have made a significant contribution to the equestrian industry were celebrated at the 2023 BETAs – British Equestrian Trade Awards tonight.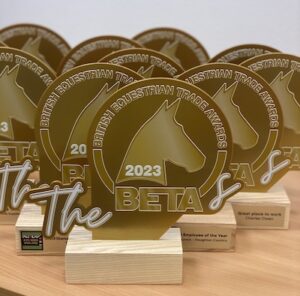 Winners of these prestigious accolades were announced during the British Equestrian Trade Association's annual Gala Dinner, returning to its slot at BETA International and taking place at Chesford Grange.
Guests at this high point in the equestrian industry calendar arrived for a pre dinner reception sponsored by Citrus Lime, followed by a three-course dinner, before dancing the night away to live music from Firefly.
"This year saw another set of deserving winners in the Business Awards receiving our rebranded and newly designed awards and 4 additional categories to the array of awards," said BETA executive director Claire Williams. "The bar is always set extremely high and those who received a trophy represented the very best in the industry. We send our congratulations to them all and our thanks to the companies who sponsored the awards."
The winners of the 2023 BETA Business Awards are...
WEATHERBEETA GROUP RETAIL EMPLOYEE OF THE YEAR
Winner: Steph Lynch – Houghton Country
This award recognises employees showing excellent customer service, great product knowledge and a passion for professional retailing.
The judges said: "A motivated, dedicated and capable employee who is also a focused and fun team player. Steph is a very worthy winner of this year's award."
CITATION TRADE SUPPLIER of the YEAR
Winner: Bliss of London, Aldridge, Walsall
This award recognises excellence in supply and customer service.
Judges highlighted the supportive nature of the company, assisting its customers to promote the products whilst investing in developing skills of both employees and customers.
EQUINE CAREERS SALES REPRESENTATIVE OF THE YEAR
Winner: Sarah Rushby, Saracen Horse Feeds
Runner-up: Simone Highmore, Allen & Page
This award, open to both employed and self-employed sales representatives and agents, goes to the individual judged outstanding in his or her approach to customer service.
The judges said of Sarah: "With total dedication to her work, our winner leads her feed sales by providing training and education so that there is a true understanding, and therefore appreciation of the products that she sells can be valued and leading to flourishing sales. With an enthusiasm for her work that is infectious, she is indeed a worthy winner of this award.
HOLDSWORTH PR MARKETING EFFECTIVENESS AWARD
Winner: Equilibrium Products, Leighton Buzzard, Bedfordshire
Joint Runners Up: Shires Equestrian, Leominster, Herefordshire Charles Owen, Wrexham, Clwyd
This award celebrates effective communications and the increased value a company's marketing campaign has brought to its brands. Aspects such as store and show-circuit promotions, mass media advertising, sponsored riders and social media are assessed to see how powerful a role they play in solving business problems and generating revenue.
Equilibrium Products was praised for the new way developed to promote existing product without defaulting to money off. They provided a way for retailers to move existing stock alongside increasing levels of followers on social media channels. It was a clever way of giving something to customers without breaking the bank.
ZEBRA PRODUCTS RETAILER OF THE YEAR
This award for tack shops and feed merchants – whether or not they are BETA members – relies on customer nominations, questionnaires and mystery shopping. It is divided into three categories: Equestrian Retail Store, Online/Mail Order Retailer and Best new Retailer.
Equestrian Retail Store
Winner: Redpost Equestrian, Totnes, Devon
Runner-up: Manor Equestrian, Newthorpe, Nottinghamshire
One judge said of the winner: "Fantastic range of products and price range with plenty of stock in store. Very helpful staff with sound advice."
Online/Mail Order Retailer
Winner: Redpost Equestrian, Totnes, Devon
Runner-up: Supplement Solutions, Great Eccleston, Lancashire
Judges were impressed with the company's easy-to-navigate website with great product search function. The company's app was impressive in both design and functionality and shows how the latest in technology can be harnessed to build business.
Best New Retailer
This new award rewards retailers established between 12 – 30 months prior to April 2023.
Winner – Bolerolux Equestrian & Country Wear , Goxhill, Barrow upon Humber
Judges commented that the winner showed attention to detail which was second to none, with the owner being noted for her friendliness and passion.
STUBBS ENGLAND NUTRITIONAL HELPLINE OF THE YEAR
Winner: TopSpec Equine Thirsk, North Yorkshire
Runner up: Blue Chip Feeds, Broomhall, Shieffield.
This award gives recognition to the role that a reliable and accessible nutritional advice line plays in the selection of feeding stuffs. This year the competition was hard fought with record numbers of companies being nominated.
Judges praised TopSpec for their in depth questioning of all matters relevant to the selection of feed.
SEIB Insurance A Great Place to Work Award
Winner: Charles Owen, Wrexham, Clwyd.
Runner Up: Country and Stable of Olney, Olney.
A new award this year, for the company who offers an excellent working environment, support and guidance on the employee's career path, and a company who provides benefits to make a productive and happy work place.
The judge praised the winner for "Its inclusive and considerate culture".
EQUINE FITTERS COUNCIL EQUINE FITTER OF THE YEAR
Another new award for 2023, this is designed to recognise the work undertaken by saddle, bridle and bit fitters. Receiving over 1500 nominations for over 100 fitters this award was hotly contested. Due to the very high quality of candidates the panel has chosen joint winners, offering as both did professional service, follow up and on going support of their customers.
Joint Winners:
John Hirrell, Barlaston Horse Supplies, Barlaston, Stoke on Trent
Lorna Hancock, Lorna Hancock Saddle Fitting, Lincoln, Lincolshire
BETA Rider Safety Equipment Fitter Award
A new award to recognise riding hat and body protector fitters that work to ensure riders are given the correct fitting and standards advice when purchasing their safety items.
Winner: Amanda Burrows – A2B Equestrian, Ferring, Worthing.
Runner Up: Charlie Morris – Treehouse Sporting Colours,Rushock, Droitwich
The top two clearly showed a real passion for safety, but the winner just edged it on detailed knowledge of the standards.
BETA LIFETIME ACHIEVEMENT AWARD
Winner: Tim Smalley - Managing Director, Bedmax
This year's BETA Lifetime Achievement Award winner, Tim Smalley, founder of leading equine bedding company Bedmax, was honoured for his contribution to the field of bedding. He was one of the first to recognise the widespread problem of respiratory disease in stabled horses and the critical importance of eliminating airborne dust from the 2 worst sources: forage and bedding. He was a pioneer in this field as he was the first to understand damage from dust in traditional straw bedding and the early forms of byproduct shavings. His vision from the start was to create stable products that improved equine health, wellbeing and performance while also optimising convenience and cost for the horse owner and or trainer.
Tim single handedly redefined the business of equine bedding and his contribution is widely recognised and acknowledged throughout the equine industry both here in the UK and Internationally