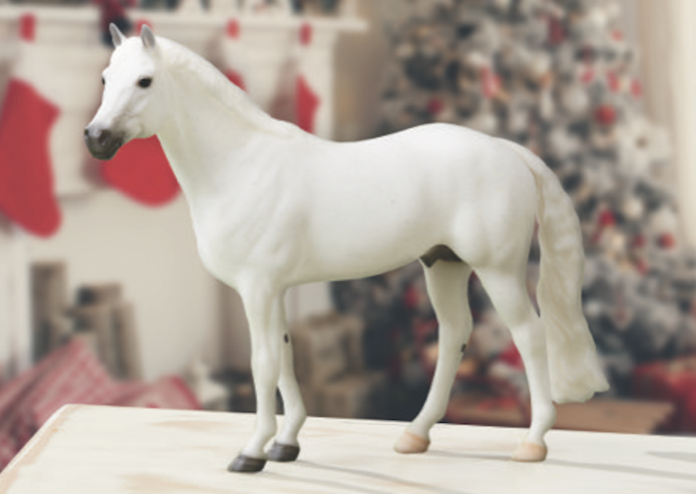 As retailers gear up for Christmas, seasonal merchandise is taking centre stage.

And what better than a holiday gift idea themed around a horse called Snowman, the inspiration for a new Breyer model?

Snowman's rags-to-riches story began in 1956 when Harry de Leyer, a Long Island riding instructor, went shopping for potential school horses in Pennsylvania.

Arriving too late for the auction, he spotted 'rejects' being loaded onto a van bound for the slaughterhouse. Though bony, beat up and filthy, one gray plough horse showed enough spark to catch his eye. De Leyer made an offer, and for $80, the seven-year-old gelding was his.

Quiet enough to be a lesson horse, he was a hit with children, who dubbed him 'Snowman'. But when sold to a local doctor, he kept jumping fences and returning to de Leyer. Recognizing his talent, de Leyer began training him for show jumping.

Soon, Snowman was beating the country's best jumpers. He'd clear anything from a 7'2" obstacle to another horse. Yet this child-friendly, giant could still win a leadrein class too.

Snowman was champion at the 1958 National Horse Show, winning again the following year. In 1958 and 1959, he was named American Horse Shows Association Horse of the Year and the Professional Horsemen's Association Champion.

Dubbed 'the people's horse', he became a television celebrity, and was the subject of several books. Even in retirement, Snowman remained a popular attraction at de Leyer's farm, where he died in 1974. Eighteen years later, he was inducted into show jumping's Hall of Fame.

Snowman is the subject of Elizabeth Letts' bestseller The Eighty Dollar Champion which tells his amazing Cinderella story. He is also now a Breyer model.