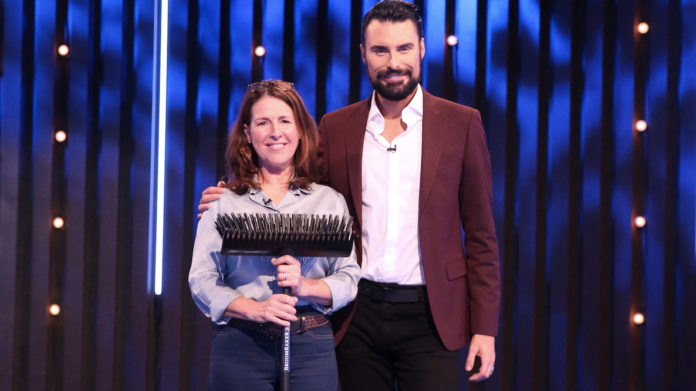 Karen Cholerton, inventor of the BroomRaker stable and yard tool, is due to appear on Channel 4's Buy It Now For Christmas this Thursday (12 December) at 8pm.
Karen hosted a TV camera crew at her Herefordshire base earlier this year. "I had to spend seven hours sweeping the yard," she said. "Then I had a day at the studios in Manchester."
But it still came as quite a shock when Karen and her daughter settled down to watch Goggle Box one evening last week - and she spotted herself in action, BroomRaker in hand."
"I'll be hiding behind a cushion to watch the actual programme," she added. "I'm not allowed to say too much, but it's been a really interesting experience."
The British-made BroomRaker combines a broom with a rake. It can tackle many tasks around the yard and garden and is particularly good at clearing muck from rubber matting grooves.
Hosted by Rylan Clark-Neal (pictured with Karen), Buy It Now For Christmas invites inventors to showcase their products to an audience of typical consumers.
If even one is impressed, inventors get the chance to pitch to a panel of buyers from big-name retailers.