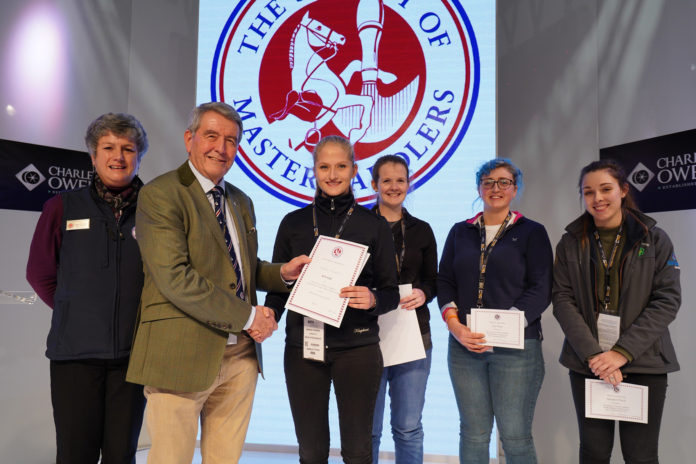 Famous manufacturers rubbed shoulders with newcomers to the trade in The Saddlery Pavilion at BETA International 2020 last week (19 – 21 January).
This area of the show, representing Britain's saddlery heritage and future, was alive with craftsmanship and careers advice. As like-minded saddlers and saddle fitters mingled, the camaraderie flowed.
"I'm really impressed, I've never seen it so busy," said Helen Stone of Discovery Saddles.
While James Hitchen of The Ideal Saddle Company added: "It's good to see a lot of retailers here. We've done a great deal of talking!"
BETA International visitors also saw apprentices and trainees working at benches in The Saddlery Pavilion as they competed in the Society of Master Saddlers' (SMS) competitions over the three days.
The Worshipful Company of Saddlers donated the prize money.
"It was a fantastic three days at BETA International with a brilliant standard throughout the competitions," said Hazel Morley of the SMS.
Sunday's competitors made raised browbands, to be completed in six hours. Taking part were Saddlery Training Centre trainees Hannah O'Neill and Zoe Hurst of Cirencester Saddlery, Gudrun Thuesen from David Dyer Saddlery and Rhiannon Thomas from Huw Thomas Saddlery.
The top award went to Gudrun Thuesen with Rhiannon Thomas claiming second place after judges, Master Saddlers Helen Reader and Chris Taylor, had made their deliberations.
Said Gudrun: "Making the raised browband required a lot of focus and concentration and you really needed to get the measurements correct, take your time and be patient."
On the Monday, second year Capel Manor College students were Ruby Knights and Georgie Chapman, who were joined by Jenna McCall and Tahia Hunt from the Kings Troop RHA and Saddlery Training Centre. They each made an Irish martingale.
The winner was Georgie Chapman with Jenna McCall taking the runner-up place.
Said Georgie: "It was quite nerve-wracking working in front of so many people, but I'm both delighted and shocked to win. The £150 prize money is just fantastic."
On the Tuesday, first year Capel Manor students Caroline Munksgaard, Emise Baktai, Emma Kelly and Quyen Tu Vy showcased their leatherworking talents by making bridle headpieces.
The judges chose Emise Baktai's entry as the winner with Caroline Munksgaard taking second place.
Georgie Champman receives her winning award from SMS President, Ted Boggis

Jenna McCall receives her prize from SMS President, Ted Boggis