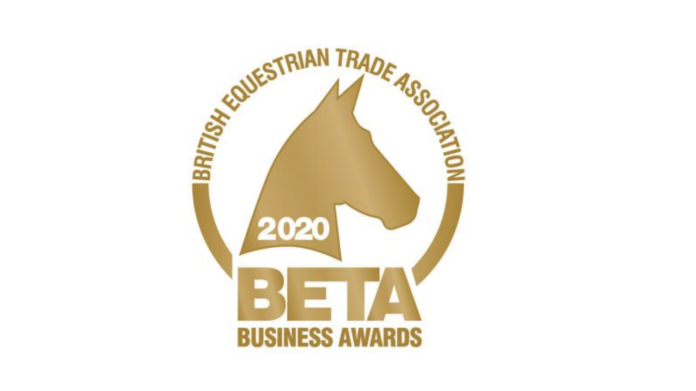 Companies and individuals who have made a significant contribution to the equestrian industry were celebrated at the 2020 BETA Business Awards. Winners of these prestigious accolades were announced during the British Equestrian Trade Association's annual Gala Dinner, at the National Motorcycle Museum, near Birmingham, on Monday 20 January.
Guests at this high point in the equestrian industry calendar arrived for a champagne reception, followed by a three-course dinner, before dancing the night away with a disco provided by Keratex Hoofcare. The BETA raffle – always a great fundraiser for Riding for the Disabled Association – collected £1,125 for the charity.
"This year saw another set of deserving winners in the Business Awards," said BETA executive director Claire Williams. "The bar is always set extremely high and those who received a trophy represented the very best in the industry. We send our congratulations to them all and our thanks to the companies who sponsored the awards."
The winners of the 2020 BETA Business Awards are...
WEATHERBEETA GROUP RETAIL EMPLOYEE OF THE YEAR
Winner: Chantelle Snowling, Tower Farm Saddlers, Rugby
This award recognises employees showing excellent customer service, great product knowledge and a passion for professional retailing. The winner receives a cash prize in addition to the award and their employer is given BETA training vouchers.
The judges said: "Chantelle is a very deserving winner of this award, having proved herself to be a dedicated, focused and ambitious employee. She has a charming manner and friendly approach that is supported by a sound knowledge of the trade."
EQUINE CAREERS SALES REPRESENTATIVE OF THE YEAR
Winner: Karen Beaumont, Allen & Page, Thetford, Norfolk
Runner-up: Hayley Weatherstone, Finest Brands International, Leeds
This award, open to both employed and self-employed sales representatives and agents, goes to the individual judged outstanding in his or her approach to customer service.
The judges said of Karen: "With her cheery disposition and horse welfare as high on her agenda as her sales, she is to be congratulated for her commitment, drive and passion."
TSM MARKETING EFFECTIVENESS AWARD
Winner: Westgate Labs, Morpeth, Northumberland
This new award celebrates effective communications and the increased value a company's marketing campaign has brought to its brands. Aspects such as store and show-circuit promotions, mass media advertising, sponsored riders and social media are assessed to see how powerful a role they play in solving business problems and generating revenue.
Westgate Laboratories was praised for having clear objectives, effectively rolling out a desirable subscription model across different mediums and keeping print and digital advertising, direct emails, website graphics and social media all within budget. The judges added: "They were able to highlight the campaign's success in terms of generated interest and financially."
EQUESTRIAN EVENT OF THE YEAR SUPPORTED BY HENSON FRANKLYN
Winner: Your Horse Live, NAEC, Stoneleigh, Warwickshire
This accolade, which is nominated by consumers and tradestand holders that have exhibited at various events, acknowledges the indoor or outdoor consumer show that works best to take the trade's needs and requirements – and visitor experience – into consideration. Judges praised Your Horse Live for its move to a three-day event and trying to "accommodate exhibitors' requests, and taking time to walk round other shows and listen to ideas, and change the show for the better."
SEIB RETAILER OF THE YEAR
This award for tack shops and feed merchants – whether or not they are BETA members – relies on customer nominations. It is divided into two categories: Equestrian Retail Store and Online/Mail Order Retailer.
Equestrian Retail Store
Joint winners:
Aivly Country Store, Ringwood, Hampshire  Tower Farm Saddlers, Rugby, Warwickshire     
Runner-up: Manor Equestrian, Newthorpe, Nottinghamshire
One judge said of the joint winners: "The stores were well laid out, with well-lit displays. I was greeted on arrival by friendly staff who made me feel like a valued customer. They offered great advice, with sound knowledge." 
Online/Mail Order Retailer
Winner: Supplement Solutions, Great Eccleston, Lancashire
Runner-up: Urban Horse, Alston, Cumbria
Judges were impressed with the company's easy-to-navigate website, knowledgeable staff and wealth of information available, and felt that this was a retailer that excelled in both the service offered and the range of products available.
STUBBS ENGLAND NUTRITIONAL HELPLINE OF THE YEAR
Winner: TopSpec Equine, Thirsk, North Yorkshire
Runner-up: Dengie Horse Feeds, Maldon, Essex
This accolade goes to the company that offers excellence in nutritional advice and service to customers – consumer, trade and retail.
Judges praised TopSpec for the "clear, precise information given, with details about local suppliers to follow up with after the call".
CERIS BURNS EQUESTRIAN EXPORT AWARD
Winner: Bedmax Shavings, Belford, Northumberland
This award is presented to the company that has shown substantial and sustained increases in export activity over a three-year period.
A judge praised Bedmax's commitment to ensuring that its export sales manager has face-to-face meetings with clients at least twice a year, adding: "I am impressed by their foreign-language brochures, international advertising programmes and the Chinese- and Arabic-language sections on their website, which show a real commitment to international markets."
LORINERY RETAIL DISPLAY COMPETITION SUPPORTED BY THE WORSHIPFUL COMPANY OF LORINERS
Winner: Aivly Country Store, Ringwood, Hampshire
This award is designed to encourage high standards of in-store displays and the provision of information and educational material for the consumer.
Judges said that the winner's lorinery display featured a wide range of bits and was well-lit and arranged into logical categories. "Aivly is to be congratulated on leading the field with its comprehensive and impressive arrangements of horse bits, and the information provided that helps to clarify the details of bit function and selection."
BETA LIFETIME ACHIEVEMENT AWARD
Winner: Richard Cleeve
This year's BETA Lifetime Achievement Award winner, Richard Cleeve, founder of leading equine supplement company NAF, was honoured for the passion he has consistently shown for animal welfare and his belief in the environment and all things natural.
He was praised for his modesty and practice of always investing funds back into the business and the industry, notably NAF's research and development in new products and further innovating existing ones.
Richard spent his early working life on cattle stations in Australia before returning to Britain and running the family dairy farm in Monmouthshire. He married Fiona and had two daughters who took up riding, just as he had done since childhood. On seeing environmental stresses causing their horses to cough, he pioneered the manufacture of dust-free hay.
With Dr Nicholas Larkins, a vet, he then developed the use of natural products known as nutraceuticals. This became a core value when, in 1989, Richard founded NAF, which became an official supplier to British equestrian teams 18 years later. He has also been instrumental in raising nutritional awareness among performance athletes.
He retired as Deputy Lord Lieutenant of Gwent in 2017, at the compulsory retirement age of 75.