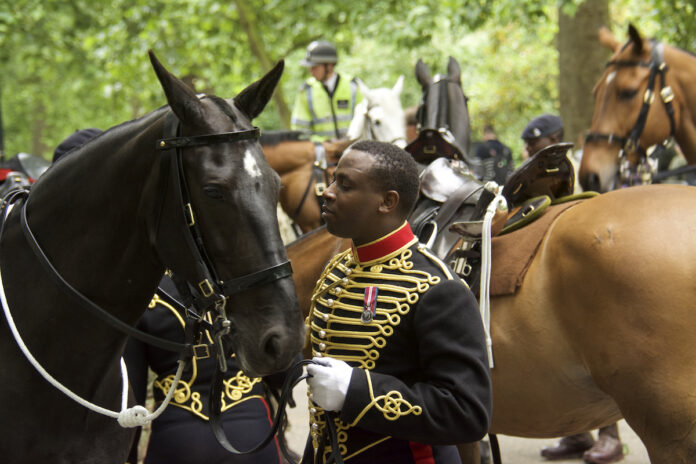 Meet the saddler who's a serving soldier.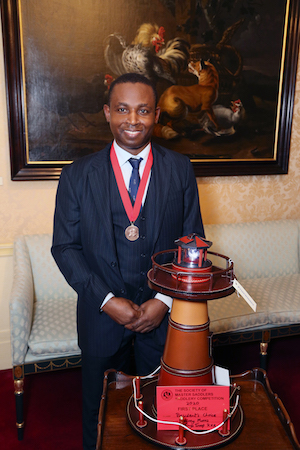 Godfrey Morris has been named ETN/SMS Bench Saddler of the Month for June. He appears on the front cover of the current issue of ETN.
The award, presented in conjunction with the Society of Master Saddlers (SMS), recognises those who uphold the highest standards of leathercraft skills.
Godfrey was nominated by his apprentices -Tahia Hunt, Christie Farren and Jenna McCall. Tahia says: "Godfrey took on three apprentices in 2019 at The Kings Troop Royal Horse Artillery (RHA). All three of us!
"We were only a year into the Millennium Apprenticeship scheme, with no previous saddlery experience, when he took over as Master Saddler of the workshop.
"There are no other qualified saddlers in our department, so Godfrey not only has to conduct all the training for the three of us, but is also responsible for checking that we correctly maintain 90 sets of Gun Team harness and tack for more than 100 horses.
"This is all alongside having a full-time military job as a ceremonial soldier. However, Godfrey always goes the extra mile to pass on his incredible skills to us."
ABOUT Godfrey:
From a young age, Godfrey enjoyed making things. He could often be found constructing model planes and other toys from cardboard boxes and anything else he could find around the house.
"It led to me becoming a creative adult with a garage full of bits and bobs," he recalls. "My most interesting 'make' was an engineer's hammer using my lathe and drill press."
Godfrey is not from an equestrian background and admits to having a fear of horses when he joined the Kings Troop in 2002. Nevertheless, after completing his basic military training his first job saw him working with those very same horses.
"Before too long, I was appointed 'top harness cleaner' whose job it is to apply polish to the leather until a mirror-like shine is achieved - good enough to shave in," he said.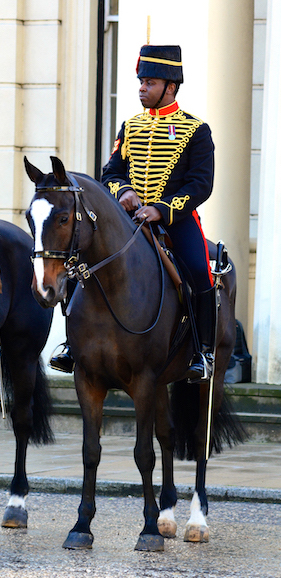 Cleaning harness was Godfrey's first hands-on experience with leather. "I was soon intrigued to find out more about where it comes from and how items are made," he said.
"The Master Saddler at the time, Stuart Russell, used to make random checks in the harness room. And, one day, I thought I'd ask a silly question – 'what does it take to become a saddler?' To which he replied 'a bit of common sense.' And I guess that's where it all began."
Today, Godfrey is a serving soldier based in Woolwich in south-east London where he describes his workshop as "sophisticated and well-equipped." He is currently a Warrant Officer Class 2 (WO2), a rank also known as a Company or Squadron Sergeant Major.
Following Prince Philip's death in April, Godfrey appeared on ITN TV News. He's been interviewed about how the military was preparing for ceremonial duties surrounding the funeral.
At present, Godfrey is passionate about making leather luggage, holdalls and weekend bags.
However, his proudest achievement to date is his entry for the Society of Master Saddlers' 2020 National Saddlery Competition. Last year, the coveted President's Choice class had a nautical theme for which Godfrey made a leather lighthouse.
He won – and with that came the Ken Lyndon-Dykes perpetual trophy.
Looking back over his career so far in saddlery, Godfrey comments: "The best thing about the trade is that there are no boundaries. You can mix traditional with modern and really go all out… The possibilities are literally endless.
"The worst for me is seeing poor quality goods being manufactured at home and abroad, at the expense of traditional skills and crafts."
As for interesting items Godfrey has made, a top hat box rates highly. "It's perhaps not very unusual, but it was my biggest challenge to date," he says. "However, I'm not sure if I'd attempt making another one in the future."
When he's not working, Godfrey enjoys walking, watching television and listening to reggae music. He also confesses to indulging in a little 'plane spotting.
How to nominate a bench saddler:

Everyone is invited to nominate bench saddlers they feel deserve to be named ETN Bench Saddler of the Month. Candidates for the award must be members of the SMS and based in the UK or overseas.

To nominate a bench saddler (or more than one), email editor@equestriantradenews.com and tell us why this person deserves to be put in the spotlight. Please include the bench saddler's name and business name too.