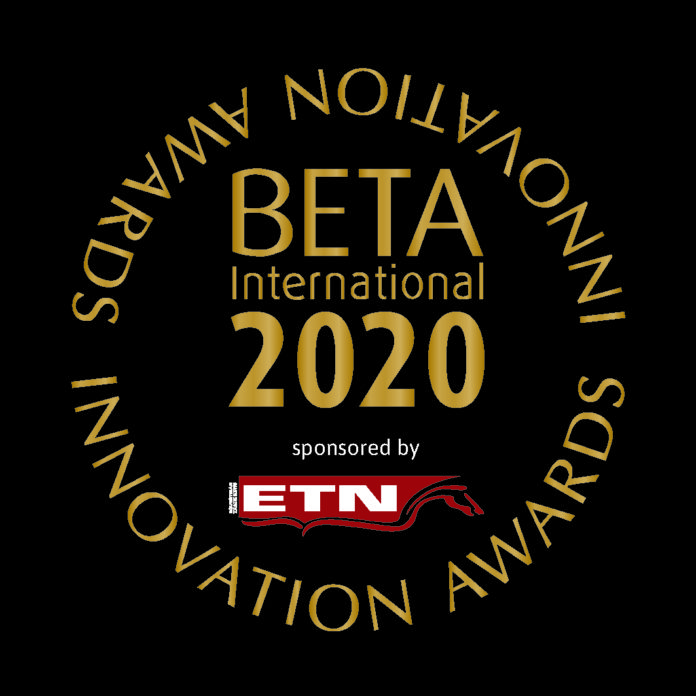 BETA International's Innovation Awards, with their fresh, new format for 2020, certainly hit the spot with the trade-only audience who gathered to hear the winning products announced as the first day of the show ended at the NEC, Birmingham, on Sunday 19 January.
Sixty-four exciting new products were entered into the awards and considered by an independent panel of judges – retailers Adrian and Julie Charley, of Townfields Saddlers, Dr Georgina Crossman, administrator of the National Equine Forum, and Sonya Cox, a key member of the NEC Group's Sustainability Working Group.
The awards, designed to recognise and celebrate specific criteria in a product's design, technology, manufacture and environmental credentials, are sponsored by BETA International's media partner and leading industry title Equestrian Trade News.
Every exhibitor is invited to enter products in the competition, provided they have not been introduced to the market during the 12 months preceding the show. Each entry must feature elements that are truly innovative – radically different, completely viable and able to address a definite need.
This year's categories are:
Design Innovation: A product innovative in part or in its entirety, addressing a need and bringing something completely new and of value to the market. It must be recognisably different from other products, either totally new or one that has been reimagined to improve the way it looks, works or is manufactured.
Technology Innovation: A product incorporating technological advances in development and manufacture, with the potential to revolutionise. This can include the use of technical materials and designs based on extensive research and development.
Sustainability Innovation: A product made from environmentally friendly materials or created in sustainable and green manufacturing processes. This might include the use of recycled materials or those from sustainable sources and employ measure to help reduce CO2 emissions.
Judges' Choice: A product that ticks all the boxes for design, technology, sustainability and visuals – and has a real wow factor and definite kerb appeal in terms of aesthetics and eco-friendly elements.
"To be a world-leading show, it is important to move with the times, said BETA International organiser Claire Thomas. "Products and the manufacturing environment are constantly evolving and the Innovation Awards have been reformatted to keep in step.
"We are delighted with the industry's extremely positive reaction to the awards and very excited about all the fantastic entries. Seeing the winners take to the stage to collect their trophies is always very special and congratulations to them all."


The winners of the 2020 Innovation Awards are...
DESIGN INNOVATION
Winner
Company: The Wide Boot Company
Product: Atia field boot
The ankle on this boot is designed to be slimmer and more fitted than other plus-size boots while still being comfortable.
Judges' comments: "We like the design of this boot because it takes into account the size of both the ankle and calf."
Highly Commended
Company: Baleno
Product: Banbury jacket
This ladies' jacket features a lightweight, waterproof, four-way stretch fabric with micro fleece lining and a high snug collar.
Judges' comments: "The jacket is well designed, with lovely material and a nice fit." 




TECHNOLOGY INNOVATION
Winner
Company: Albert Kerbl
Product: GoLeyGo 2.0 halter and rope set by Covalliero
This ultimate panic lock, invented by GoLeyGo and Covalliero, has a magnetic fastener system that can be released simply and safely under tension.
Judges' comments: "The product is simple but clever, allowing handlers to release the rope from the headcollar. We like the fact that it can be used for other animals, too."

Highly commended
Company: Frank Baines Saddlery
Product: Build My Baines
This digital tool allows riders and fitters to customise certain parts of the saddle, optimising customer choice and improving experience. It can be used in conjunction with a saddle fitter.
Judges' comments: "This is great use of technology and innovative – and working with the fitter is good."


SUSTAINABILITY INNOVATION
Winner
Company: Horseware Ireland
Product: Repreve fibre used in Autumn/Winter 2020 clothing collection
This high-quality fibre is made from 100 per cent-recycled materials, including post-consumer plastic bottles and pre-consumer waste. They are certified and recyclable.
Judges' comments: "It's great to see this recycled performance fibre used in clothing. It could also be used in horse rugs."

Highly commended
Company: Ethos
Product: Smart bedding
This equine bedding is made of 100 per cent chipped miscanthus, a natural biodegradable plant, which dries naturally in the field and is low in moisture.
Judges' comments: "A lot of thought has gone into this sustainable product, with an interesting use of scents."


JUDGES' CHOICE
Winner
Company: Westgate Labs
Product: Faecal sand test for horses  
These two laboratory faecal sand tests in a retail kit monitor sediment levels in the gut of equines, which contribute to bowel irritation and are a major cause of colic and impactions. The kit includes first-class postage to the lab and results are returned on the same day. 
Judges' comments: "We like this move away from regular drugs. As well as being innovative, it is sustainable and supports equine welfare."

Highly commended
Company: Horseware Ireland
Product: Amigo Reflectech competition sheet
This exercise rug is ideal for use during low light conditions to increase visibility for the horse and rider's safety.
Judges' comments: "This is really innovative use of reflective fabric."