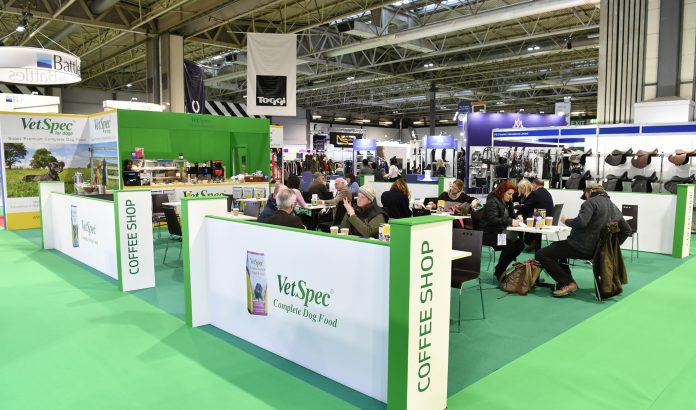 Sponsorship highlights Pets at BETA International.
TopSpec Equine is backing the BETA International Coffee Shop under its VetSpec brand for a second year.
The sponsorship allows the company to highlight the distinctive brand to retailers and fly the flag for its hypoallergenic, cereal-grain-free range of Super Premium complete dog foods.
"As TopSpec Equine experienced a number of incredibly successful years as sponsor of the Coffee Shop, we understand perfectly how effective supporting BETA International in this way can be," said executive chairman Philip Tyler.
"We are really excited about the growth of the VetSpec range and are very much looking forward to the opportunity of being able to share the success with the show's visitors. Sponsoring the Coffee Shop plays a key role in our marketing strategy and is a powerful tool in helping to secure maximum traction for the VetSpec brand."
BETA International organiser Claire Thomas added: "We are very excited to have TopSpec and its VetSpec brand on board for 2020 – a year when pet products will receive a powerful boost, thanks to Pets at BETA International, a new initiative that will see the trade fair introduce a dedicated pet show within a show to the halls.
"We have enjoyed a long and successful relationship with Philip Tyler and his team, and we are really looking forward to working alongside them once again."
The VetSpec Coffee Shop provides exhibitors and visitors with a handy refreshment stop. They can use it to take a well-earned break or catch up with friends and colleagues over hot drinks and snacks.
VetSpec joins the trade fair's fellow supporters, Spotlight sponsor Charles Owen, official media partner and Innovation Awards sponsor Equestrian Trade News, exhibitor bag sponsor Henson Franklyn, New Product Gallery sponsor Shires Equestrian, Champagne Bar sponsor NAF, model horse supplier Stubbs England, official clothing supplier Toggi and main sponsor Neue Schule.
BETA International 2020 runs from 19 to 21 January at the NEC, Birmingham, and caters for the equestrian, country and pet markets. For further information about exhibiting at the show, please contact Darren Mottershead, email darrenm@beta-int.com or telephone +44 (0)1937 582111.