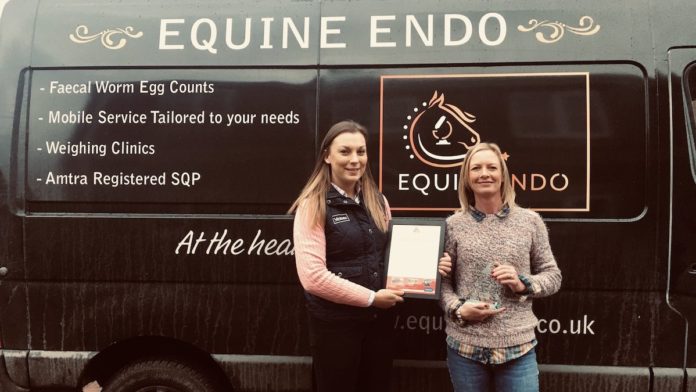 The 2019 Virbac 3D Worming Equine SQP of the Year is Sandy Robertson from Equine Endo.
Lincolnshire based Sandy provides on-site sampling, testing and worming advice from the mobile clinic she set up in 2016.
"It's great to be nominated by my clients and I'm delighted to be recognised within the industry," said Sandy whose background is in the equine welfare charity sector. Part of her prize was an all-expenses-paid trip to Olympia just before Christmas.
Sandy is pictured (right) with Rebecca Spurr of Virbac, the manufacturer of wormer brands Equimax and Eraquell.
The annual Virbac 3D Worming Equine SQP award is designed to highlight the hard work and dedication of equine SQPs [suitably qualified persons considered competent to prescribe and supply certain animal medicines including equine wormers].
ETN runs regular CPD features and quizzes, accredited by regulatory body AMTRA, to help SQPs maintain their qualifications. The next one appears in our March issue.