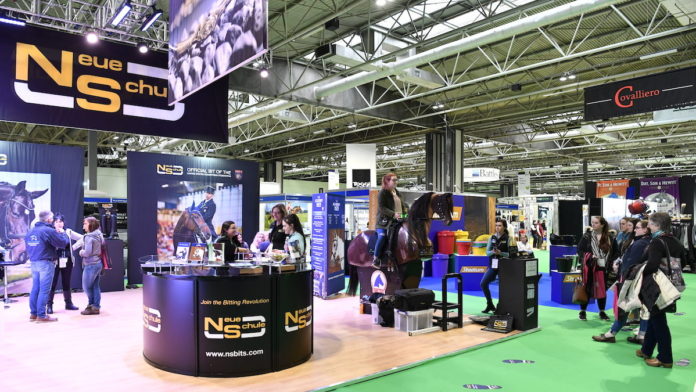 BETA International has celebrated the New Year in style with the news that bit and bitting specialist Neue Schule has signed to continue as main sponsor in 2021 and 2022. The company, which first took up the sponsorship mantle seven years ago, has been a positive force in flying the flag for this leading trade show, which takes place again this month.
"BETA International is the essential event for the equestrian trade," said Neue Schule chief executive officer Sarfraz Mian. "It has a proud and strong heritage, not only in the UK, but also around the world. Neue Schule has been bringing significant innovations to the equestrian marketplace over many years and BETA International is our showcase event.
"Our proud association as main sponsor has been invaluable in drawing attention to developments and the quality of our products. I am thrilled that, as we start a new decade, we are continuing our relationship as main sponsor and very much look forward to working with the super organising team in further enhancing the value of BETA International for both exhibitors and visitors."
Show organiser Claire Thomas added: "We are absolutely delighted that Neue Schule has taken this decision. The company is our longest-serving main sponsor and its forward-thinking, dynamic approach has been of tremendous benefit to BETA International. Sarfraz and the rest of the Neue Schule team are joining us at an extremely exciting time in the show's development and we are thrilled to have them on board."
BETA International is the leading trade show for equestrian, pet, country and giftware products. The 2020 show runs at the NEC, Birmingham, UK, from 19 to 21 January. Its other supporters this year are Demonstration Arena surface supplier Aspfase, The Spotlight sponsor Charles Owen, official media partner and Innovation Awards sponsor Equestrian Trade News, exhibitor bags sponsor Henson Franklyn, Demonstration Arena sponsor Liveryman, Champagne Bar sponsor NAF, New Product Gallery sponsor Shires Equestrian, model horse supplier Stubbs England, official clothing supplier Toggi and Coffee Shop sponsor VetSpec.
Entry is strictly trade-only and free on registration at beta-int.com. For further information, please contact Fiona Berry, email info@beta-int.com or telephone +44 (0)1937 582111.