Business-minded competitor has been winning at small tour.
International dressage rider Lara Edwards (nee Dyson) has launched a leatherwork label.
The Cathedral Equine collection comprises everyday snaffle bridles to doubles with bling.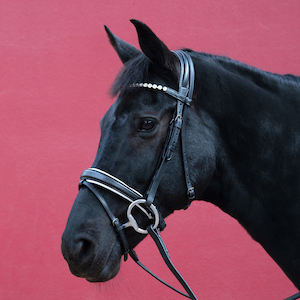 Lara has also sourced reins, head collars and lead ropes, plus dog collars and leads, and belts for riders.
"Cathedral Equine has been something I wanted to do for a long time," she says.
The Lincolnshire based rider added that coming from a business-minded family has helped her forge ahead with the project.
Lara was pictured in Horse & Hound (29 April) winning Prix St Georges and Intermediare 1 competitions with her top horse Jazzed Up.