The patent pending innovation has been extensively field trialled.
The Advantage girth, just launched by Jeremy Rudge Saddlery, has an eight-way flexion design.
Results of trials on a number of horses indicate that it can increase equine comfort, improve cadence and encourage even weight distribution.
Amy Downing, saddle fitter at Jeremy Rudge Saddlery, came up with the design and spent several months developing it.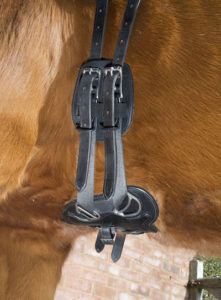 "The claims for the Advantage girth are supported by independent biomechanical testing and analysis, extensive field trials and customer feedback," she said.
"Horses of various breeds and disciplines were filmed at walk, trot and canter in each of two girths: their regular one and the new one.
"Data analysis confirmed that the new girth reduces significantly the time taken to complete a stride. The increase in speed did not indicate rushing, but rather the horse going forward in a positive way.
"In the belief that a forward horse is a happy horse, this indicates that the tested horses were more comfortable with the Advantage girth design than their regular girths."
The leather girth comes in standard or slim sizes, and can be supplied with double or single end fittings. The RRP is £200. A patent has been applied for.
Says Jeremy Rudge: "Current circumstances mean this probably isn't the ideal time to launch a new product. But this has been in development for some time and we've been able to maintain some production to meet demand for our saddles as well as the new girth."
To find out more about this product more visit https://jeremyrudgesaddlery.co.uk