Retailer urges others to fund-raise for charities hit by pandemic – and explains why it's good for business.
An equestrian retail business owner, whose brother is disabled, has raised more than £1,600 so far for the RDA (Riding for the Disabled).
And now Anthony Rowe of GS Equestrian is urging other equestrian businesses to do the same as charities struggle to recover post-Covid.
While altruism is the main motivation behind Anthony's campaign, he also sees charitable giving as a great way to connect with customers.
"[Fund raising] is not only beneficial for the charities, but also for retailers as it helps to create a shared passion and goal between you and your customers," he says.
Devon based GS Equestrian collects donations via its website and runs a GoFundMe page to support the British Equestrian Trade Association (BETA) sponsored RDA pony, Violet.
Connecting with customers
"The main way we encourage our customers to donate to Violet's GoFundMe page is via social media platforms, email campaigns and other marketing channels such as push notifications," explains Anthony.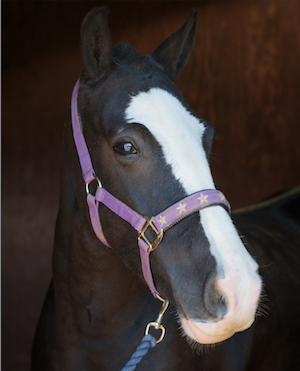 "We've found the response and engagement with our customers to be really great so far."
GS Equestrian also collects donations through the checkout on its website. Once a customer gets to 'payment information' for their order, there's a small box saying 'Donate to the RDA.'
The desired amount of donation is then added to their order total. Once order and payment have been processed, customers receive an order confirmation - plus a 'thank you' email for their donation.
Donations are also added to a 'running total' on the information bar at the top of GS Equestrian's website.
"We wanted to do this, not only keep track of our fundraiser's progress, but to also give a sense of transparency and trust between us and our customers," says Anthony.
"It provides more of a reason for people to shop with us as it creates connections and meaning between us and our customers."
Digital collecting buckets
Anthony agrees that charities have had "a tough time" during Covid lockdowns, as have many bricks-and-mortar stores.
The two are linked because many charities reach potential supporters through donation buckets and charity stands in retail stores and at checkouts, he points out.
"We see the way we're collecting as a digital form of the donation bucket at the end of a checkout in a tack store. It's a no-brainer really, customers find it super-easy just to drop in a pound or two on their way to placing their order with us."
Its charitable work connects GS Equestrian with the wider equestrian industry, as well as consumers, adds Anthony.
"We believe giving back is just as important as providing a product or service."
"A fantastic charity"
What prompted GS Equestrian to fund-raise for the RDA?
"It's a charity that's close to my heart," says Anthony. "Having a disabled brother, I understand the importance and value that equine therapy can provide.
"The RDA is a fantastic charity that helps to support over 25,000 disabled children, young people and adults across the UK."
To donate to support RDA pony Violet, click here: