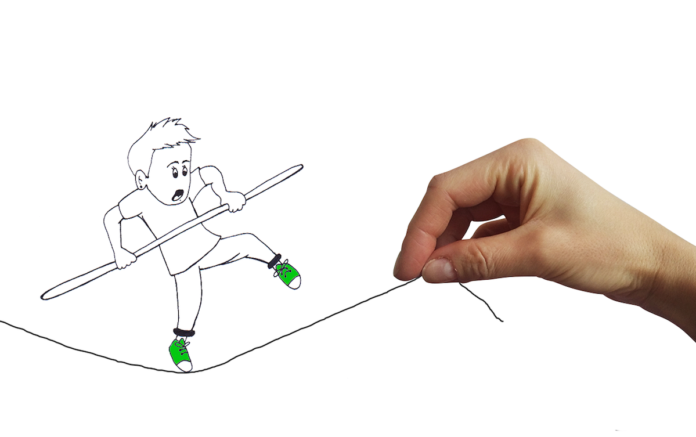 Balancer has appeal for retailers who don't normally stock feed.
Blue Chip Feed was in the vanguard when balancers arrived to change the way many horses and ponies are fed.
Now the company has developed Super Concentrated balancers, with the aim of making it possible for more retailers to stock these sought-after products.
ETN asked Blue Chip to tell us more.
Q. What's in your latest balancers?
A. Our Super Concentrated range comprises Calming, Senior, Joint Care and UlsaCool products. They come in 3kg tubs or 3kg refill bags.
They contain everything you expect from a Blue Chip balancer, including probiotics, nucleotides, oils and anti-oxidants, plus a complete vitamin, mineral and nutrient package.
Each product contains a hoof and respiratory supplement, plus additional bespoke ingredients to address specific issues.
Q. What advantages do they offer retailers?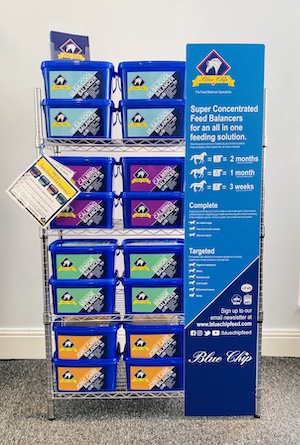 A. The range gives feed and non-feed stockists the opportunity to offer their customers a feed balancer that sits neatly alongside existing supplement ranges.
Super Concentrated tubs take up very little space in store, they're clean, stackable and easy for your customers to pop into their cars. 
We offer retailers committing to the full range an option with merchandising - such as shelving and PoS - included. In store training is available too. 
Q. How did the Super Concentrated range come about?
A. A large proportion of the UK equine population is overweight, particularly in the leisure sector where animals are often treated as family pets and are overfed, fed the wrong types of feed and underworked.
With this in mind, we began to develop ultra-low feeding rate balancers to enable horse owners to maximize the use of forage while meeting their equines' requirements for minerals and vitamins - but without overfeeding.
In addition, we investigated and evaluated a number of functional and natural feed additives to address particular nutritional issues in overweight, excitable, older and sports horses.
We were also keen to develop a feed balancer that was more retailer friendly. Common feedback from retailers who stock feed is that bulky bags take up lots of space, are difficult to store and easy to damage.
We believed that if we could produce a feed balancer that could sit on stores' shelves in robust tubs, with a long shelf life, it would help solve these issues for retailers.
We then explored the development of six completely new, highly concentrated feeds to address six distinct issues:
1. A pellet designed to nutritionally balance a high forage diet, supplying the correct number of calories to maintain the horse or pony's ideal weight
2. The possible inclusion of functional feed additives to nutritionally balance the diet of a field kept horse eating mostly grass.
3. The possible inclusion of functional feed additives designed to assist with gastric support.
4. The possible inclusion of functional feed additives designed to assist with the horse's temperament.
5. The possible inclusion of functional feed additives designed to assist with the particular nutritional demands of the veteran horse.
6. The possible inclusion of natural feed additives such as spice, oils and herbs as well as functional feed additives to support healthy joint function.
Next, we conducted a national online survey across owners of different breeds and types of horses, and of a variety of riding abilities, to ascertain which products would be of interest.
Our main challenge has been to develop a formulation that's five times more concentrated than traditional balancers.
Manufacturing was not straight forward due to excess heat production, and the need for consistency of each pellet. But eventually we cracked it, and Blue Chip Super Concentrated feed balancers were born.
Q. How does the cost compare with standard balancers?
A. Each 3kg tub has an RRP of £24.95. A 500kg horse is fed 100g per day, so a tub lasts for 30 days at a cost of 83p per day.
In comparison, Blue Chip Original - our best-selling balancer which comes in 15kg sacks - has an RRP of £32.95. A 500kg horse is fed 500g per day, so a bag lasts 30 days at a cost of £1.09 per day.