WHAT'S NEW IN 'BIOTICS?
Understanding new gut health ingredients with Kate Hore RNutr(Animal) R.Anim.Technol (Cert), head nutritionist at NAF
AMTRA is required by the Veterinary Medicines Regulations to ensure its RAMAs/SQPs undertake CPD. All RAMAs/SQPs must earn a certain number of CPD points in a given period of time in order to retain their qualification. RAMAs/SQPs who read this feature and submit correct answers to the questions below will receive two CPD points. For more about AMTRA and becoming a RAMA/SQP, visit www.amtra.org.uk
Digestive health is such a key area of overall equine health and vitality. The gastrointestinal tract is recognised not only for diet utilisation, but also as the principal immunity organ in the body, conferring at least 70% of the body's defences.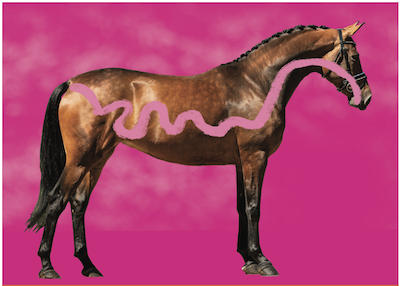 The modern equine lifestyle can be challenging for that digestive system. Whether through unnatural diet, prolonged periods stabled or intensive exercise and regular travel, it seems our horses' guts often need a little additional help.
The use of probiotic yeast is long-established in equine supplements, and in recent years we have become more familiar with prebiotics too. Just recently, we are seeing a new boy on the block – postbiotics.
In order to advise customers correctly, we need to know our pre from pro, from post, and our microbiome from microbiota.
PREBIOTICS
In many ways it makes sense to consider the prebiotics first, as they can be thought of as initiating the 'biotics' pathway through the gut. Prebiotics were first defined, in 1995, as a non-digestible ingredient that benefits the host (animal/person) by stimulating growth of one, or a limited number, of bacteria. However, that definition is a little restrictive, and the more broadly accepted definition is now seen as:
'a selectively fermented ingredient that results in specific changes in the composition and/or activity of the gastrointestinal microbiota, thus conferring benefit(s) upon host health.'
To meet the criteria, prebiotic compounds must be resistant to the acidic pH of the stomach, remain undigested by the host animal's own enzymes and not be absorbed by the digestive tract. Prebiotics then work by fuelling growth of the intestinal microbiota – effectively acting as food for the microbes – which, in turn, is beneficial to the overall health of the animal.
In horses we typically see the prebiotics MOS (mannanoligosaccharides) and FOS (fructooligosaccharides), which includes compounds such as Inulin. Prebiotics are legally classed a 'Feed Materials' and, as such, will be listed under the Composition section of the label on feed, including complementary feed supplements.
PROBIOTICS
Probiotics get their name from the Latin 'pro' meaning 'for', and 'biotic' meaning 'pertaining to life', which helps us to remember that probiotics are, by definition, 'for life'! Probiotics are defined as:
'live microorganisms that when consumed in adequate amounts confer a health benefit to the host.'
In human nutrition we are familiar with products such as live probiotic yoghurt, but are these appropriate to feed to our horses? No, not really, and for two important reasons.
Firstly, horses obviously have a very different natural diet from ourselves, which means they have a very different array of microbes in their digestive tract to us. For a probiotic to work, it must be appropriate to the animal it is being fed to.
Currently there is only one legal, live probiotic available for use in equine feed in the UK and through Europe. That is the live probiotic yeast, Saccharomyces cerevisiae. There are a number of different strains, but all are that yeast.
As a retailer, if you are offered products containing live bacteria, or claiming to provide a blend of different probiotics, then you should avoid them, and report them to your local Trading Standards Office. Those products are illegal under Feed Law, and – just as importantly – are not proven to either be safe or effective in horses. The probiotic yeast has proven functionality for improving digestibility, and is legally registered.
On the label, the live yeast will be listed under Additives, and must have its 'cfu' number (colony forming unit), which tells you the level included. Be aware that Saccharomyces can also be listed in a number of other ingredients, which don't have 'live' activity, for example, Brewers' Yeast is an inactive yeast. If you want a probiotic check the listing carefully.
No 'cfu' = No probiotic.
The second reason human probiotics aren't appropriate, is that their levels are designed for human rather than equine requirements. For equine probiotics, the legislative framework ensures all manufacturers include the live yeast at a minimum of the level proven to be effective in horses, so meeting the definition which requires adequate amounts to be fed.

POSTBIOTICS
The relative newcomer in digestive supplements are postbiotics, which may be used on their own, or sit nicely alongside pre and probiotics. Postbiotics are defined as:
'a preparation of inanimate microorganisms and/or their components that confers a health benefit on the host'
In simple terms, postbiotics are the end-products, often called 'metabolites', of the microbial fermentation process, which in horses is mainly in the hindgut.
Therefore, we are looking at what the microbes themselves produce, and these include VFAs (Volatile Fatty Acids), B Vitamins, peptides and microbial cell wall components. Their benefits are wide ranging. For example, VFAs are an important energy source for the horse.
Postbiotic vitamins may include biotin (B7) or niacin (B3) – just two of the important B vitamins produced by the microbes. While the peptides contribute compounds including amino acids, the building blocks of protein and repair.
Whilst they are a diverse group, the important thing that ties these metabolites together is that to be a recognised postbiotic they must be produced through microbial fermentation. Therefore, simply using synthetically made B vitamins or pure amino acids does not mean you are feeding postbiotics.
Due to this essential fermentation production step, postbiotics will be listed on the label under Composition as 'Yeast products', and should not be confused with their synthetic counterparts, which will appear under Additives as 'Amino acids' or 'Vitamins'.
The benefits of postbiotics are potentially very wide ranging, and it will be a very interesting area for research going forward. Currently we are largely looking at supporting digestive health, and through that, general immunity and health, through the digestive tract's role in immune function.
MICROBIOTA OR MICROBIOME?
Understanding postbiotics helps us clear up the confusion in these two commonly used terms. Frequently used interchangeably they are actually subtly different and that difference is, largely, down to the postbiotic metabolites.
In conclusion, understanding what prebiotics, probiotics and postbiotics can all bring to digestive health, and how they are fed to horses, helps us understand the myriad of products available, answer customer questions, understand labels and advise the best products to suit the horse's needs.
Selected references:
Berreta A & Kopper J (2022) Equine Probiotics – What are they, Where are we and Where do we need to go? Journal of Equine Veterinary Science. 115 doi.org/10.1016/j. jevs.2022.104037
Davani-Davari D, Negahdaripour M, Karimzadeh I, Seifan M, Mohkam M, Masoumi S.J, Berenjian A & Ghasemi Y (2019) Prebiotics: Definition, types, sources, mechanism and clinical applications. Foods. 8 (92) doi:10.3390/foods8030092
Jouany J-P, Gobert J, Medina B, Bertin G and Julliand V (2008) Effect of live yeast culture supplementation on apparent digestibility and rate of passage in horses fed a high- fiber or high-starch diet. Journal of Animal Science. 86(2)
Salminen S, Collado MC, Endo A, Hill C, Lebeer S, Quigley EMM, Sanders ME, Shamir R, Swann JR, Szajewska H, Vinderola G. (2022) The International Scientific Association of Probiotics and Prebiotics (ISAPP) Consensus statement on the definition and scope of postbiotics. Nat Rev Gastroenterol Hepatol. 2021 Sep;18(9):649-667. doi: 10.1038/s41575-021- 00440-6.
ABOUT ETN'S RAMA/SQP FEATURES
ETN's series of CPD features helps RAMAs (Registered Animal Medicines Advisors/SQPs) earn the CPD (continuing professional development) points they need. The features are accredited by AMTRA, and highlight some of the most important subject areas for RAMAs/ SQPs specialising in equine and companion animal medicine.
AMTRA is required by the Veterinary Medicines Regulations to ensure its RAMAs/SQPs undertake CPD. All RAMAs/SQPs must earn a certain number of CPD points in a given period of time in order to retain their qualification. RAMAs/SQPs who read this feature and submit correct answers to the questions below will receive two CPD points. For more about AMTRA and becoming a RAMA/SQP, visit www.amtra.org.uk