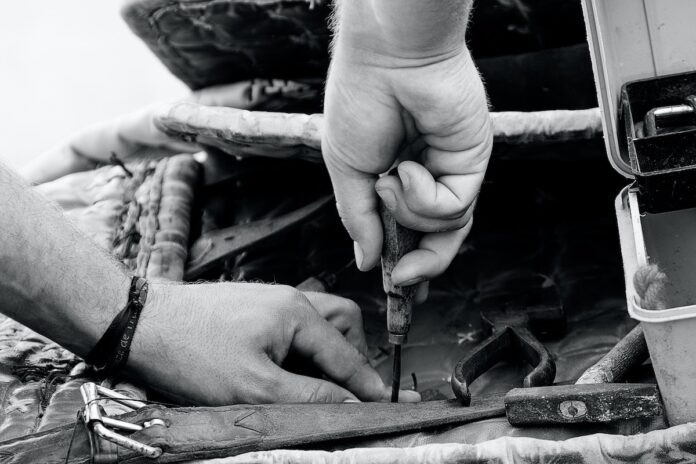 "The sports science side of the job is so interesting," says award winner.
Helen Leedham has been named ETN/SMS Bench Saddler of the Month for December.
The award, presented in conjunction with the Society of Master Saddlers (SMS), recognises those who uphold the highest standards of leather craft skills.
Helen was nominated by Mark Romain of the Saddlery Training Centre who says: "I've always been impressed with Helen's drive to achieve the highest craft standards combined with her determination to support the welfare of horses. 
"Riding from an early age and competing with her own horses has placed her in the ideal position to support rider and horse.
"Helen is well known to many saddlers for her entries in the President's Choice Class [a freestyle competition] at the SMS National Saddlery Competition. Her background in design, combined with her saddlery skills, seems to fire her imagination and she has made some truly remarkable items over the years."
Fine art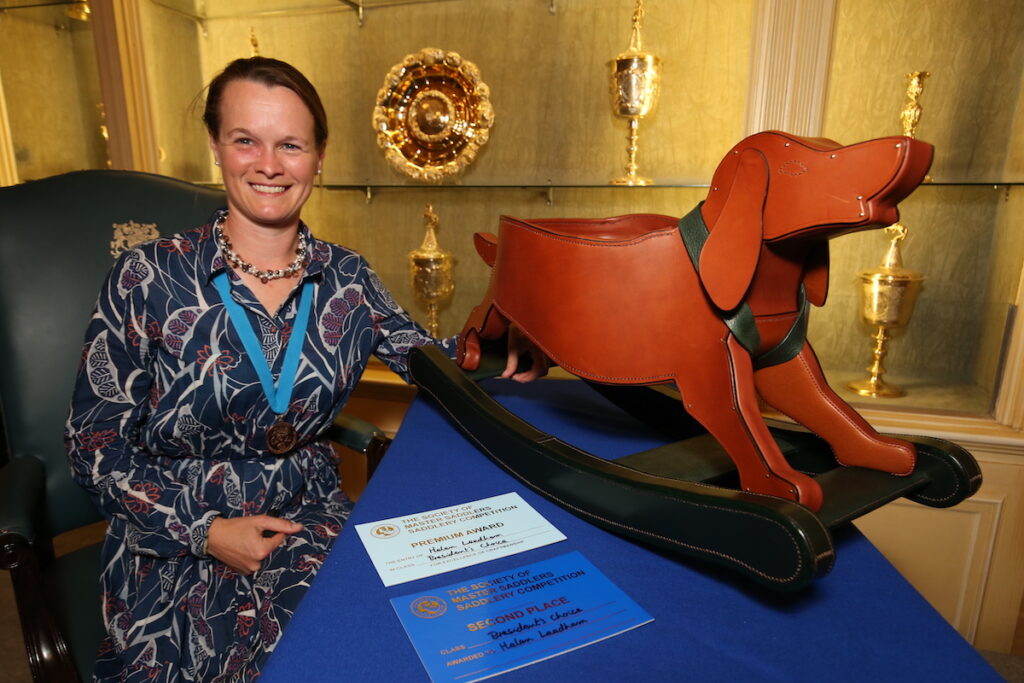 Helen began her saddlery training at Walsall College - straight after finishing a BA (Hons) degree in Fine Art Sculpture at Bristol in 2002.
"I'd always been a maker and enjoyed both the conceptual and practical sides of fine art," says the north Worcestershire based saddler.
Helen's lifelong love of riding has seen her involved with showing when very young, through to eventing as a teenager and, currently, dressage and showjumping. She's also been a Pony Club instructor.
"Saddlery seemed to be the perfect combination of creativity and making, and my passion for horses," she says. Maybe that's why she relishes the "artistic licence" afforded by the President's Choice class?
Variety of skills
During her career, Helen has worked part-time for a gun company and part-time as a saddler. "It allowed me to learn and use a variety of skills, including pattern making and creating 'one-offs'," she says.
"But there was no room for getting it wrong! These were often items for foreign royalty. Although it was a nice feeling to think what I'd made ended up all over the world."
Saddle fitting grows
As Helen has become more in demand for saddle fitting, there's been less time for bench [workshop] work.
"It's sad, but to make items properly in the workshop takes so much time," she explains. "My bench work now really consists of saddle adjustments and re-flocking, re-balancing and any other jobs to gain and retain optimum saddle fit for performance.
"It's the part I've become super-passionate about. It goes back to my riding roots and the desire to allow the horse to be as comfortable as possible and enjoy performing to the best of their ability.
"It's amazing what difference a small adjustment can make and there is nothing more rewarding than making a change for the better."
"I wanted to be a vet"
When Helen was young, she wanted to be a vet, But the pull towards creativity was very strong and eventually won the day.
"I now feel I have the best of both worlds," she says, "as I regularly work alongside vets and physios to help horses undergoing rehabilitation and dips in performance which can be improved by careful saddle fitting.
"The sports science side of the job, and putting what you see and feel into practice is what's so interesting and rewarding."
Not enough hours
The worst thing about her job, says Helen, is time – or lack of it. "As with doing any job thoroughly, it takes time and plenty of it. There'll never be enough hours in a day, especially when horses and a workshop are involved!"
When not at work, Helen enjoys training her own horse – "it's my release and exercise all at once" - and spending time with her family.
She had a baby last October, so needless to say, life is more hectic than ever trying to fit everything in. Luckily, she still manages to get out and about with the horses.
Helen works from home, and tries to do as many adjustments as possible on site or on the road to keep travelling to a minimum, although of course that isn't always possible with more complicated jobs. "My workshop could do with being much bigger, but I guess that's always the case!"
Industry changes
Helen has seen the industry "change massively" over the years she's been a part of it; the internet being the biggest factor.
"People will regularly approach me with a request for a particular make or style of saddle because they've asked for advice on a forum or Facebook and it's what other people have come back with.
"Often, you're left spending more time explaining why something won't work than doing the job…"
How to nominate a bench saddler:
Everyone is invited to nominate bench saddlers they feel deserve to be named ETN Bench Saddler of the Month. Candidates for the award must be a member of the SMS and based in the UK or overseas.

To nominate a bench saddler (or more than one), email editor@equestriantradenews.com and tell us why this person deserves to be put in the spotlight. Please include the bench saddler's name and business name too.
Black & white photo by Quino Al