Award-winning saddler makes the case for repairing and restoring.
Carolyn Truss has been named SMS/ETN Bench Saddler of the Month.
The award, presented in conjunction with the Society of Master Saddlers (SMS), recognises those who uphold the highest standards of leathercraft skills.
Carolyn was nominated by Coralie Chung, who says: "I love popping in to see Carolyn in her workroom, usually with an ancient piece of harness or side saddle to look over and maybe salvage.
"Carolyn's work is exquisite. She produces beautiful harness and collars, particularly for large breeds, as well as stunning bridlework and fabulous side saddles."
About Carolyn Truss
Always a maker, Carolyn studied art and sculpture at school and sixth form.
"My father is a skilled wood and metal worker and model builder, my mum was a great seamstress and I love to work with my hands," she says. "Their ability to fix, mend or make whatever we needed had a big impact on me."
After school, Carolyn went to agricultural college intending to follow a career in forestry with working horses. "But along the way I developed a love of heavy horses and their harness - and that changed my direction," she recalls.
Growing up near Newmarket meant horses were part of Carolyn's life from the age of eight. "None of my family is horsey, but our next-door neighbour Paddy was, and she became my 'horsey mum'. With her, I went to numerous mountain and moorland shows and fell in love with all our native breeds," she explained.
As a teenager, Carolyn took weekend jobs on breaking, sales and livery yards, helping with polo ponies, point-to-pointers, racehorses and in-foal Anglo Arab mares.
During college, she did work experience at a Shire horse centre, and later took a full-time role at the National Trust's Wimpole Home Farm in Cambridgeshire. It was here her love of working horse and interest in their harness was sealed.
With help from "the bank of mum and dad" plus her boyfriend (now husband), Carolyn trained for her City & Guilds exams at a saddlery centre in Bury St Edmunds.
Today, she has a workshop in one of the barns on the couple's tenanted farm in Horningsea just outside Cambridge.
"I spend four days a week making bespoke leatherwork, mostly bridles and driving harness. One day a week, usually Tuesdays, I work for Mill Saddlery at Stowupland as their Master Saddler and one of their qualified saddle fitting team," she says.
"Things that last a lifetime"
Carolyn's favourite leatherwork includes restoring side saddles, making driving harness gig saddles and heavy horse in-hand bridles, closely followed by box work.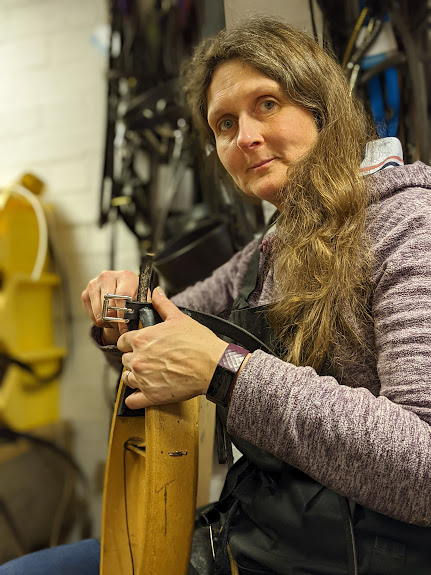 "I love the chance to restore or create things that will last a lifetime," she says.
"I hate the throw-away world we now live in. People often buy cheap leather items, and then replace them several times, rather than buying once, buying bespoke so it fits properly, and then caring for that item so it lasts well.
"Since I started 22 years ago, there have been huge steps forward in understanding the horse, the saddle and the effects of badly fitting equipment. It's so important that independent research continues to improve our knowledge so that we can make saddles, bridles and harness which are as comfortable as possible for the horse and enhance their performance."
Bucket list horse
In her spare time, Carolyn helps her husband on the farm and runs their glamping and camping diversification.
"Most importantly, I spend time with my horses and ponies. I have two Exmoors, a Dales pony and a young Shire gelding. Max, the Shire, is my bucket list horse and what it's all been about.
"I hope one day to show him in the ring in harness I've made - if I can find the time to make it!"
How to nominate a bench saddler:
Everyone is invited to nominate bench saddlers they feel deserve to be named ETN Bench Saddler of the Month. Candidates for the award must be members of the SMS and based in the UK or overseas.

To nominate a bench saddler email editor@equestriantradenews.com and tell us why this person deserves to be put in the spotlight. Please include the saddler's name and business name too.