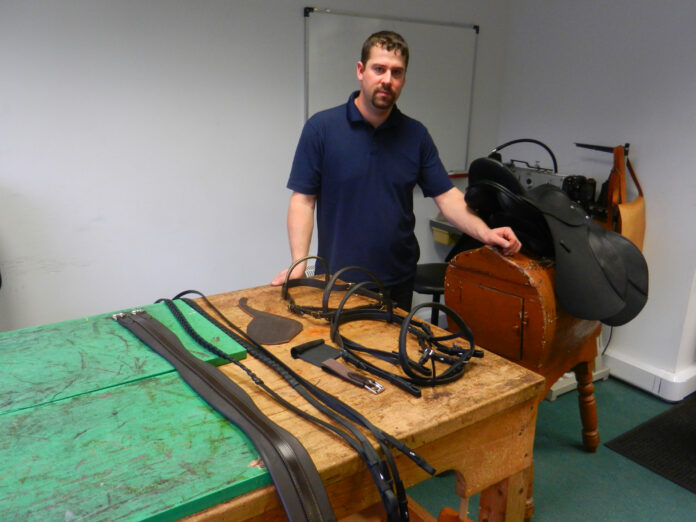 Award winning saddler hails from the United States - but was keen to train in the UK.
Joshua Morris-Siegel from Massachusetts, USA, has been named ETN/SMS Bench Saddler of the Month for March.
The award, presented in conjunction with the Society of Master Saddlers (SMS), recognises those who uphold the highest standards of leather craft skills.
Joshua was nominated by Mark Romain MBE, of the Saddlery Training Centre (STC), who first heard from Joshua by email in early 2015.
"He was already an accomplished saddle-maker who'd trained with some Walsall manufacturers; and now he wanted recognition of those skills and to join the SMS," said Mark. "I recommended aiming for City & Guilds Level 3 Bridle and Saddle-making.
"During the following year, we kept in touch as Joshua worked on the pre-made items required. Then in February 2016, he arrived at the STC in Salisbury, with his completed work, to be independently assessed.
"I'd warned him that achieving all this in a week may not be possible; but thanks to his determined attitude, he proved me wrong.
"Since joining the SMS as a Qualified Saddler, Joshua has entered and attended the National Saddlery Competition every year. A highlight was being introduced to The Princess Royal and telling her his story.
"More recently, he's upgraded to Individual Master Saddler. I'm pleased to call Joshua a friend and to nominate him for this award."
ABOUT Joshua:
Joshua doesn't have an equestrian background, but he's always been creative. His early teens saw him making bass guitars and doing small engine repairs around his family's farm in Massachusetts.
When he was 15, he heard of a family friend and neighbour looking for help in his saddlery business. "I was home-schooled, so I could start immediately as an apprentice, working with him on saddlery repairs and saddle fittings," says Joshua.
It was through his employer that Joshua came into contact with Walsall manufacturers whom he went on to visit.
Ten years later, in 2010, he had started his own saddlery business. Siegel Saddlery is based in Royalston, a small town approximately one-and-a-half hours west of Boston, Massachusetts.
"Two years ago, we built a spacious new shop at our house," said Joshua. "I'm based here unless I'm out saddle fitting. My wife does the office work and handles shipping details for repairs that are sent in from all over the world.
"It's primarily a saddle repairs and saddle fitting company," adds Joshua who finds doing seat replacements especially satisfying. "It makes me happy to step back and see the transformation of a saddle from start to finish."
The item he's most proud of is the saddle with which he won the small business category at the SMS National Saddlery Competition.
Network of saddlers
One of the best aspects of the trade, says Joshua, is the network of saddlers around the world working to make the industry better.
"The worst part is the influx of poorly made saddles and tack; it's becoming more common to see companies using cheap and unsafe materials. This makes it difficult to compare the value of [skilled] work and [good quality] materials being used when some customers are looking for the most affordable and quickest option."
Among Joshua's more unusual commissions was a reproduction 17th century jousting saddle. "It was challenging as I only had a few photos of it, plus some metal hardware provided by the client," he recalls.
When he's not working as a saddler, Joshua is a volunteer firefighter. He also enjoys woodworking and cabinet projects, yard work with his tractor, travelling and spending time with his wife, infant son and dog.
How to nominate a bench saddler
Everyone is invited to nominate bench saddlers they feel deserve to be named ETN/SMS Bench Saddler of the Month. Candidates for the award must be members of the SMS, can be based in the UK or overseas, and be employed or self-employed.

To nominate a bench saddler (or more than one), email editor@equestriantradenews.com and tell us why this person deserves to be put in the spotlight. Please include the bench saddler's name and business name too.