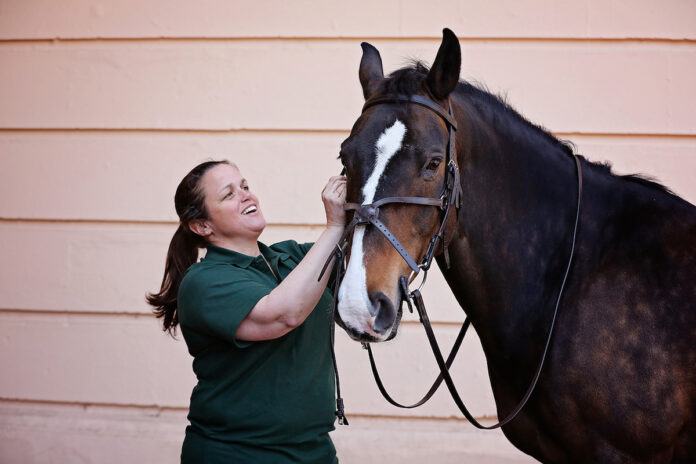 How a career went from working for ParcelForce to making bridles.
Catherine Baker has been named ETN/SMS Bench Saddler of the Month for October.
The award, presented in conjunction with the Society of Master Saddlers (SMS), recognises those who uphold the highest standards of leather craft skills.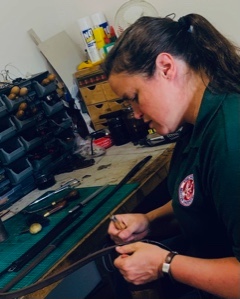 Catherine was nominated by Master Saddler Frances Roche, who says:"Catherine is a highly skilled Bridle-maker and Qualified Bridle and Saddle Fitter who's become an indispensable member of the SMS Bridle-fitting course lecturing team. She specialises in the bitting aspect of the course, but is knowledgeable in all areas.
"Catherine's thirst for knowledge is unquenchable. She's always striving to learn as much as she can about the saddlery industry. Whenever I speak to her, she's taking another qualification."
Horses or piano lessons?
The young Catherine was always drawing, cooking and making things. She inherited her creative passion from her mother who was a great cook and seamstress.
Horses came into Catherine's life when she was seven and met her grandmother's retired grey hunter, Henry. Given the choice of riding or piano lessons, horses won the day.
By the time she was 12, Catherine was helping at a local equestrian centre, spending her weekends riding across Salisbury Plain. An equine studies course at agricultural college was followed by an IT office job with Parcelforce for nine years.
Career crossroads
Catherine's career reached a crossroad when she accepted voluntary redundancy in 2001.
"I'm not sure how I got round to thinking about a career in saddlery but I wanted to do something related to horses," she says. "So I took a couple of short courses with [Master Saddler] Robin Coleman before working with [Master Saddler] Chris Harper and training at The Saddlery Training Centre in Salisbury."
Catherine loves the challenge presented by each new project that lands on her bench, especially bridles. "Fitting is an important part of making," she says, "it's good to know that you've made that horse more comfortable while it's working."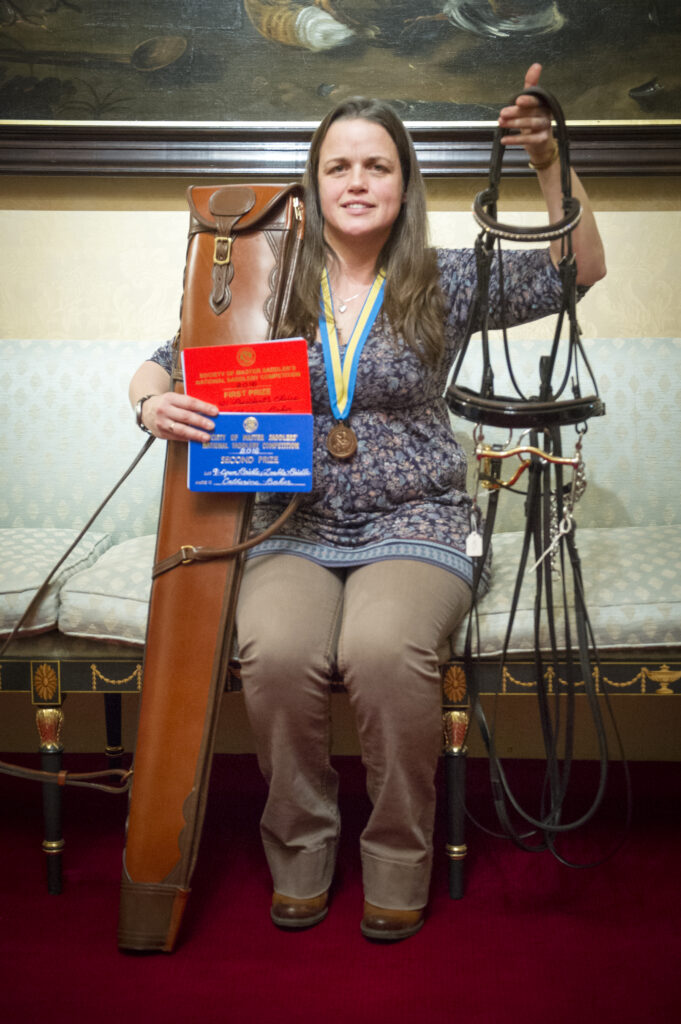 Although she hates staining reins, Catherine loves her craft and her job. "[With my fitting qualifications], I get to go out and visit some lovely horses and clients, as well as doing benchwork."
Impact of Covid
Catherine set up her own business in 2010, offering a rug laundry service alongside the saddlery.
"I found it difficult to compete with saddlers who had bricks-and-mortar tack shops, so I took a trade stand at local events to get my name out there. As I got busier with fitting and benchwork, I dropped the other services and changed the business name to Wylye Valley Equine," she says.
Covid made things "fairly tricky logistically" for Catherine, a mother-of-two who has a workshop near Tisbury in Wiltshire, a short distance from home.
"When Boris announced the first lockdown, I was faced with having two children at home. So, I moved part of my workshop into my spare bedroom so I could continue with benchwork while being here for the children."
"People prefer hand-made items"
Asked how the industry has changed in recent years, Catherine cites mass production and online sales lowering prices.
"People who previously had no other option but to buy from a bench saddler, or to have an item repaired, now have the world at their fingertips," she says.
However, Catherine sees a shift happening. "While some mass-produced products are excellent, some of the general public still prefer a good quality handmade item.
"The flip side to the internet is the ability to reach many more people via social media, and webinars to raise awareness of horse welfare. More riders can see the benefits of having a bespoke, made-to-measure bridle made for their horse."
What the bishop wanted
Last year, Catherine was commissioned to make a case in which the Bishop of Buckingham could keep his staff. "I salvaged what I could from the original case and incorporated the pieces into the new one," she said.
Leatherwork doesn't come much more bespoke than that.
How to nominate a bench saddler:

Everyone is invited to nominate saddlers they feel deserve to be named ETN/SMS Bench Saddler of the Month. Candidates for the award must be members of the SMS, based in the UK or overseas. To nominate a bench saddler (or more than one), email editor@equestriantradenews.com