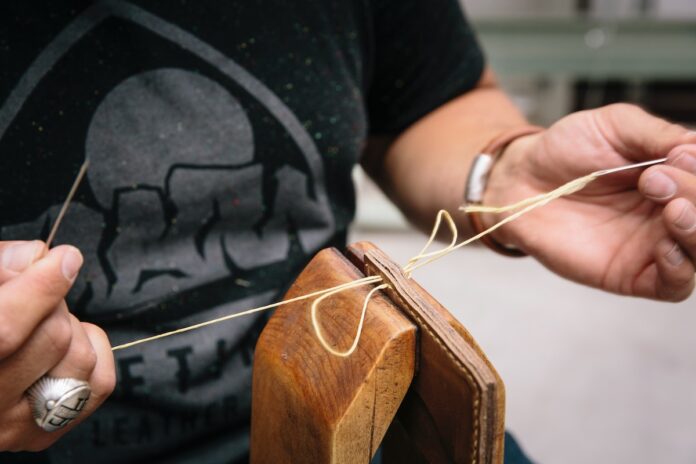 Meet the award-winning saddler who made a side saddle for a billionaire's daughter.
Susan Slade has been named ETN/SMS Bench Saddler of the Month for November.
The award, presented in conjunction with the Society of Master Saddlers (SMS), recognises those who uphold the highest standards of leathercraft skills.
Susan was nominated by Helen Dart, who says:"Susan is a Master Saddler and Harness Maker, Master Bridle Maker and Registered Qualified Saddle Fitter. She's highly regarded in the side saddle world and is wonderful at her craft.
"Susan has twice won the side saddle class at the SMS National Saddlery Competition, and the open bridle class three times. She has competed in ladies' side-saddle competitions and ridden in a number of disciplines."
All about Susan Slade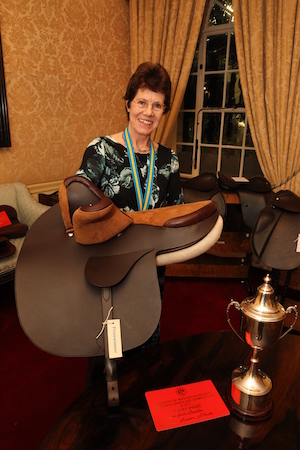 Horses have always been part of Susan's life; she rode from an early age.
Even as a youngster, she was more practical than academic. And that creative streak has remained. "Seeing an item come together from start to finish can be very satisfying," she says. "Leather is so versatile and a great medium to work with."
Susan got interested in saddlery while was working for luggage and leathergoods retailer George Aldridge & Sons in Reading.
"I would go up to the workshop at the top of the building to fetch a repair, watching Richard the saddler at work and thinking that's what I would like to do," she recalls.
Faced with a two-year waiting list to get into Cordwainers College, Susan turned her attention to working with horses. She gained her BHSAI, taught riding and worked in various yards and studs involved with hunters, youngstock, dressage horses, jumping, high goal polo and carriage driving.
Eventually Cordwainers beckoned, where Susan won the gold medal for the most outstanding student. She also qualified for membership of The Guild of Master Craftsmen with distinction and was awarded a bursary from the Worshipful Company of Coach and Coach Harness Makers.
Working in Germany
After college, she worked in Germany under the guidance of Sattlermeister Horst Olderdissen at the Sattlerei Janitshke Bielefeld, gaining more valuable experience.
In 1993, Susan returned to the UK to establish The Saddlers Workshop. Today, the business is based in the semi-rural village of Liss on the Hampshire/ Surrey/West Sussex border.
Susan served on the SMS Executive Committee for several years, and was on the sub-committee that put together the Introductory Bridle Fitting Course. She's been an assessor for the City & Guilds Saddlery Skills Assessment Examinations and occasional judge at the National Saddlery Competition.
"It's very rewarding being able to help those coming into the industry and seeing the high standard of work they achieve," she says.
Side saddles
Susan thoroughly enjoys repairing and restoring side saddles, and credits Richard Godden from The Saddlery Training Centre in Salisbury with teaching her the necessary skills.
"I'm always trying to replicate any design feature of the original saddle," she explains.
"I've also found that riding side saddle myself has helped me a great deal when it comes to balancing them for horse and rider; it helps me to understand what the rider is feeling.
"My most notable customer, for whom I made a new side saddle, was Anna Abramovich [daughter of the billionaire owner of Chelsea Football Club]."
Alpaca headcollars
Susan regularly creates bespoke bridles, belts and dog collars for customers' special occasions.
She's also been asked to make alpaca headcollars, military re-enactment items, vintage car body straps and – perhaps the most unusual request - a muzzle incorporating a sieve for a Pekingese dog.
In her precious spare time, Susan rides when she can. She also enjoys ringing bells at her local church, gardening and walking her flat-coated retriever Rueben.
"He often accompanies me on saddle fittings or in the workshop," she says of Rueben, "and he greets everyone with enthusiasm and lots of licks."
Of the changes Susan has seen during her time in the industry, she cites changeable gullets, air flocking and all the modern materials now available as most notable in saddles.
In bridles, she's seen the development of specially designed headpieces and nosebands, plus a great deal of research, new concepts and ideas.
"It's all very good," says Susan, "but I sometimes think there's a tendency to over-think things. When all's said and done, a lot of it comes down to good old fashioned common sense."
How to nominate a bench saddler:
Everyone is invited to nominate bench saddlers they feel deserve to be named ETN/SMS Bench Saddler of the Month. Candidates for the award must be a member of the SMS and based in the UK or overseas.

To nominate a bench saddler, email editor@equestriantradenews.com and tell us why this person deserves to be put in the spotlight. Please include the bench saddler's name and business name too.
Stitching leather Photo by Lifetime Leather