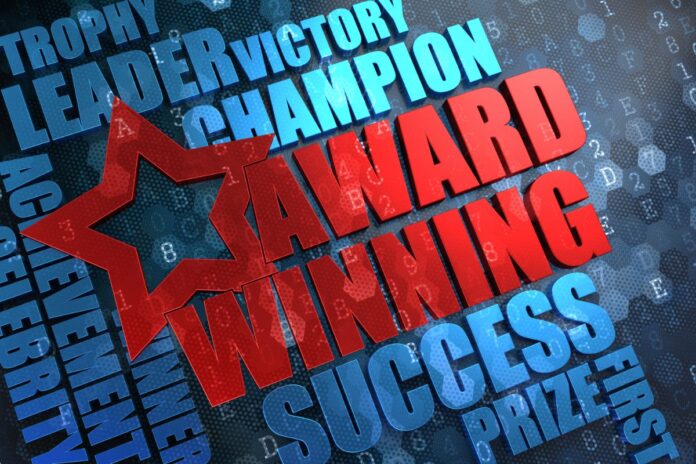 Why an award-winning apprentice commends a career in saddlery.
Gabrielle Mitchley has been named ETN/SMS Bench Saddler of the Month.
The award, presented in conjunction with the Society of Master Saddlers (SMS), recognises those who uphold the highest standards of leathercraft skills.
About our winner…
Although she had always been creative, Gabrielle also did well academically at school. Her first thought for a career was to be a vet – but her fascination with saddlery sparked another idea…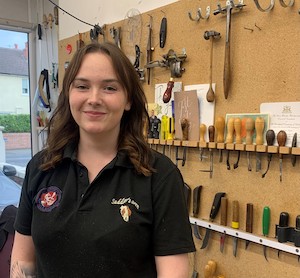 Having ridden from an early age, Gabrielle already understood the importance of correct saddle fit - and training to be an SMS Saddle Fitter is her long-term goal.
For now, however, it's the craftmanship side of being a saddler that's her passion.
Gabrielle is currently serving her apprenticeship at Southport, Lancashire based Saddler's Den under the expert eye of Master Saddler and SMS President Chris Taylor. She also studies with the Saddlery Training Centre.
"I've been around horses all of my life," says Gabrielle. "It was inevitable that my career would involve horses somehow."
A winning entry
Gabrielle was awarded first place in the Trainee Saddle (Rural) class at the SMS National Competition in February.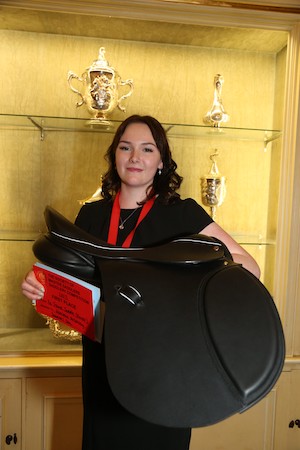 Entrants were required to make any type or size of leather saddle suitable to meet the criteria of City & Guilds Level 2 or 3 Saddle specification.
Although Gabrielle was pleased with the GP saddle she'd made for the SMS National Competition, she "couldn't believe it" when her name was announced as the winner.
"It was a complete surprise and an amazing honour," she adds.
Gabrielle says that winning the competition gave her a great confidence boost. And as for the victorious saddle? It's in regular use on her own horse, Loki.
The SMS National Competition also saw Gabrielle presented with a certificate for completing the Level 2 Leather Craftsperson Apprenticeship with distinction. 
This level of study typically lasts around 15 months during which time apprentices learn the basic skills and knowledge to practice their trade.
"Fun but hard work"
One of the best things about working in saddlery is that every day is different, says Gabrielle.
"Working at Saddler's Den is fun, but hard work too. There's always lots to do and with plenty of variety, it means you're always learning something new," she explains.
"One day you may be repairing and rejuvenating an old leather handbag, on another it could be repairing saddles and bridles. No two days are the same, which is what makes the job so great."
Gabrielle particularly enjoys making headcollars. "Although they're relatively simple to make, I like that you can add your own personal touches and be a bit creative to make them unique," she says.
Gabrielle finishes her apprenticeship next summer. Her plan is to stay local and potentially set up her own workshop.
A lifelong love of horses
Gabrielle freely admits to feeling privileged to combine her lifelong love of horses with a career in the saddlery world.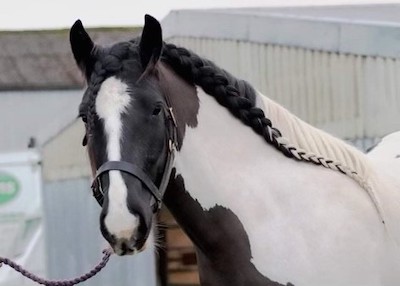 She's owned Loki, her five-year-old coloured cob, for two years. He's at the start of his riding education and the combination enjoy hacking in the countryside. Gabrielle hopes to drive Loki in the future.
Like many working owners, Gabrielle finds herself juggling horse and job. Loki is kept at a DIY yard with Gabrielle getting there every morning and back again straight after work to take care of him.
As well as spending time with Loki, Gabrielle enjoys reading and being with her three dogs.
Any spare time also sees her creating her own leatherwork. Like so many other saddlers, she's definitely been bitten by the craftmanship bug.
How to nominate a bench saddler:
Everyone is invited to nominate bench saddlers they feel deserve to be named ETN Bench Saddler of the Month. Candidates for the award must be a member of the SMS and based in the UK or overseas.

To nominate a bench saddler (or more than one), email editor@equestriantradenews.com and tell us why this person deserves to be put in the spotlight. Please include the bench saddler's name and business name too.