Business owner highlights the many routes into the industry.
Staffordshire based Kate Hardt, an SMS Master Saddler who owns and runs Kate Hardt Saddlery, has been named ETN/SMS Bench Saddler of the Month.
The award, presented in conjunction with the Society of Master Saddler (SMS), recognises those who uphold the highest standards of leathercraft skills.
From a young age, Kate – who had ridden since she was four - wanted to be either a saddler or a police officer. Fast forward a few years, and she hasn't just done one of her chosen jobs - she has done both.
Kate is the first to admit that her path to becoming a saddler hasn't been the most conventional.
She served a two-year apprenticeship from the age of 16, but didn't take any qualifications. However, what she did gain was masses of experience working on everything from bridles and military equipment to police waistbelts and side saddles.
"I gained lots of valuable training during my apprenticeship, but with no qualifications at the end of it, I left and joined the police force," says Kate.
During her 20 years as a police officer, the thought of being a saddler remained and she kept her connections with the trade via regular visits to Walsall and making the odd piece when she could.
A move to Germany
A career break followed when she met and married her husband, Thomas. They moved to Germany for a couple of years, during which time Kate ran her own saddlery business.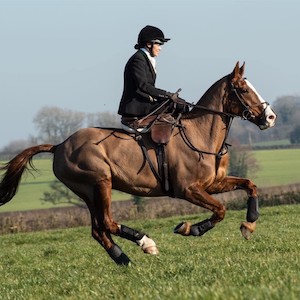 When the couple returned to the UK, Kate was keen to further her learning and credibility in the saddlery world, so she embarked on a course with Mark Romain at the Saddlery Training Centre.
Her previous experience meant Kate quickly gained the City & Guilds Level 3 Saddle Making and City & Guilds Level 3 Bridle Making qualifications.
Kate was invited to be an SMS Master Saddler earlier this year; her application was supported by Laurence Pearman, Mark Romain and Chris Taylor.
"I was over the moon to be made a Master Saddler," says Kate. "My career path has been more unusual, but I just feel so lucky to be doing what I do.
"I am passionate about keeping old skills alive and saddlery is one of those skills that we need to preserve."
Competition winner
At the SMS National Competition held in February this year, Kate came second in the Small Business Saddle Makers class and had a third place in the Intermediate Bridle class.
She is now working towards her City & Guilds qualifications in harness making and has attended numerous courses in side-saddle building and restoration.
She admits that being away on various saddlery training courses has been tough and is a big commitment.
"I couldn't have done it without the support of my husband, Thomas," she says.
Passion for side-saddle
Kate's interest in side-saddles isn't just about restoring and making them. She has ridden side-saddle for about ten years – and has even won a point-to-point riding side-saddle.
"We are very lucky to keep our two horses, Monty and Oakie, at home," explains Kate
"Monty is my horse of a lifetime. He is 24 now and I've owned him since he was four years old. He terrifies and delights me in equal measure and has been an amazing side-saddle horse. I've done everything with him from hunting side-saddle, eventing and hunter trails."
"My happy place"
Work-wise, Kate takes on lots of leather repairs. After attending a course with Frances Roche, she has started making blingy browbands too.
Kate says she loves being in her workshop every day, describing it as her happy place and something she hopes to continue for many years to come.
How to nominate a bench saddler
Everyone is invited to nominate bench saddlers they feel deserve to be named ETN Bench Saddler of the Month. Candidates for the award must be a member of the SMS and based in the UK or overseas.

To nominate a bench saddler (or more than one),  email editor@equestriantradenews.com and tell us why this person deserves to be put in the spotlight. Please include the bench saddler's name and business name too.