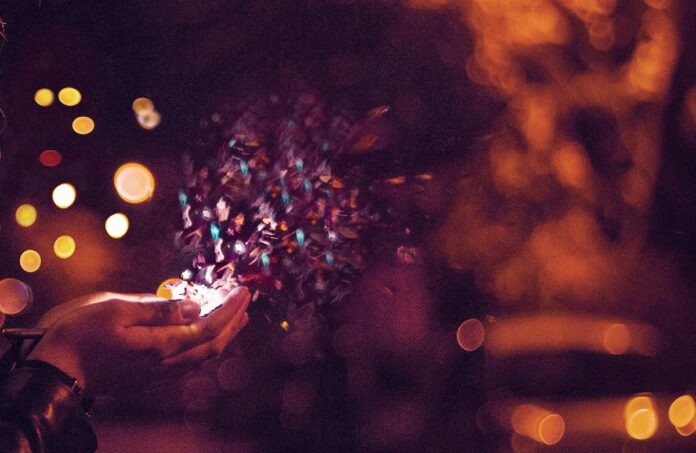 Cobalt blue patent or sumptuous calf-skin? How an award-winning saddler makes dreams come true.
Andrew Hastilow has been named ETN/SMS Bench Saddler of the Month for August.
The award, presented in conjunction with the Society of Master Saddlers (SMS), recognises those who uphold the highest standards of leather craft skills.
Andrew was nominated by SMS trade representative Ben Roberts who says: "Andrew is a brilliant bench saddler, both in a practical sense and also stylistically, often getting creative with his designs and materials.
"He is willing to impart his knowledge to others by working with apprentices and lecturing on bench courses in the US.
"Andrew also recognises the importance of the interface with the horse, having become a Qualified Saddle Fitter."
About Andrew Hastilow
Andrew has saddlery in his blood. He completed his apprenticeship with his father Frank Hastilow's Walsall company, then joined the Parkes Group as a Master Saddler.
A spell working in Australia followed, before Andrew re-joined the family firm. He set up his own business – Hastilow & Sons, based in Haslemere, Surrey – in January 2018.
Dressage saddles are a speciality. "I love the elegance of the dressage line," he says. "A dressage saddle can be simple and elegant, or made to look more glamorous with fancy colours and textured leathers.
"I'm incredibly proud of my Bamburgh dressage saddle. The classic black, calf-covered leather and contrast of the cobalt blue patent give it a magical element."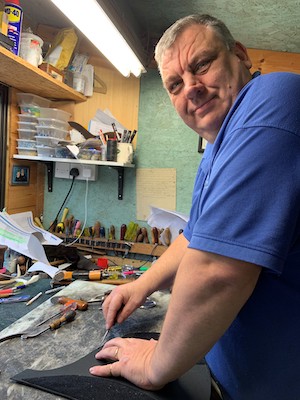 Loving a challenge
After 30 years in the trade, Andrew notes the eclectic tastes of individuals. "I've made hundreds of saddles ranging from classic black or brown to models with wild welts and facings, and very fancy cantle inserts.
"I also love a challenge. Asked to make a saddle for a difficult-shaped horse, information is key. Then I put together the various pieces of the puzzle to finish with a beautiful saddle, a happy rider, happy horse and, ultimately, a happy fitter."
Andrew says running his own saddlery business is time consuming yet satisfying. "I work long hours, but when I see the beautifully crafted saddles leaving my workshop, I feel proud."
As well as saddles, Andrew has made a number of gun-slips and sheath knife holders. He's regularly asked to make belts and dog collars too. "It's not very exciting but I'm glad to have provided something of use."
Changing times
Hastilow & Sons might be a relatively a small operation, but Andrew has big ideas.
"We pride ourselves on our totally bespoke system," he says. "Everything is possible; we cater for every individual's needs. We make saddles for a number of fitters in the UK, USA, Canada and New Zealand.
"I also go out fitting and make saddles for private clients in Surrey, Hampshire and Sussex."
Technology has brought change to the industry, says Andrew. "Adjustability in tree design has led to saddles having a longer lifespan as they can be adapted to a horse's continually changing shape.
"Equipment has also changed. For instance, moulded blocks save a saddle-maker time. Machining has overtaken hand-stitching due to mass production of seaming and flap work in saddle construction.
"Materials have evolved with calf-skin mainly used rather than pig-skin, especially in seat work."
Time off
Away from the bench and business, Andrew is an avid cricketer. He's played for Haslemere Cricket Club for 32 years, coaches the under 21s team, is a welfare officer and first aider.
After each cricket season, his attention turns to football. "Manchester United has been my team since I was a child. But these days I'm also a big fan of Havant and Waterlooville and frequently go to both home and away games."
Family remains important to Andrew: "I love spending time with my wife Karen, and my two sons. Tom is currently at Newcastle University and James, who still lives at home, regularly helps me in the workshop."
Another generation of Hastilow saddlers in the making, perhaps?
To nominate a bench saddler…

Everyone is invited to nominate bench saddlers they feel deserve to be named ETN/SMS Bench Saddler of the Month. Candidates must be members of the SMS, based in the UK or overseas.

To nominate a bench saddler (or more than one), email editor@equestriantradenews.com and tell us why this person deserves to be put in the spotlight. Please include the bench saddler's name and business name.
Magic Photo by Almos Bechtold