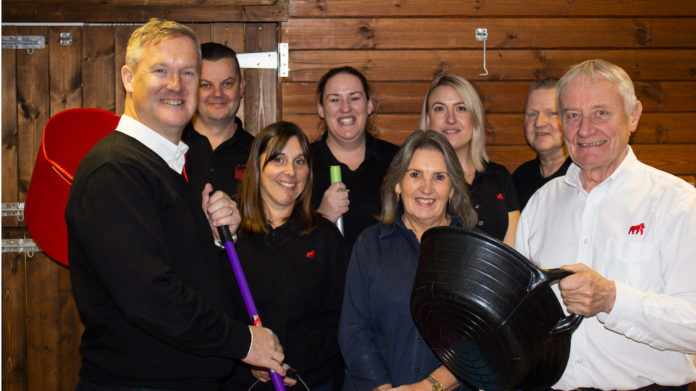 Steve Faulks, of Faulks & Cox Ltd – now known as Red Gorilla - is due to retire early next year.
Many products with which he has been involved - from Tyre Rubber skips in the early 1980s to today's brightly coloured Tubtrugs – have revolutionised the equestrian scene.
Following Steve's retirement, managing director Dean Cox is to take Red Gorilla forward on its many fronts.
The company serves the building and construction, gardening and household sectors as well as the horse world.
So what does Steve have planned for his retirement? "I thought I might take up wing-walking and tossing the caber," he told ETN. "Then I thought 'nah', I'll maybe read the odd book or two.
"Most of all," Steve added, "many thanks to all our customers for their support over the past 40 years."
Steve is pictured (right) saying 'cheerio' to Dean Cox (left) and the Red Gorilla team.
More new products from Red Gorilla will be on show at BETA International 2020 on 19 – 21 January at the NEC, Birmingham.
ETN's exclusive show preview – complete with floorplan, list of exhibitors, show offers and timetable - is in our January issue.