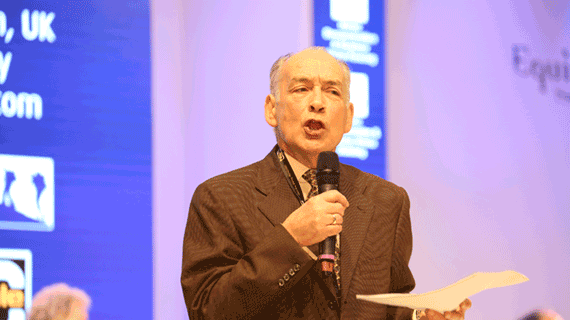 ITV newscaster Alastair Stewart and Talking Business are set to make their annual return to BETA International with a new panel of industry representatives set to discuss and debate some of the most tantalising trade topics and business conundrums.
The 2020 show will see Andy Haines, commercial director of publisher Redpin, and retailers Chris Hughes, of Pet n Pony, and Victoria Highfield, of Highfield Equestrian and Online for Equine, join Abbey England managing director Richard Brown and Shires co-managing director Marcus Cridland to take the hot seats at The Charles Owen Spotlight on Sunday 19 January.
This highly popular trade fair feature has been delighting exhibitors and visitors since it was introduced in 2016 and its growing reputation has seen it elevated to become one of the show's most enjoyable and entertaining events.
"Alastair is a fantastic host and we are thrilled to welcome him back to BETA International," said show organiser Claire Thomas. "Our new panel for 2020 is full of promise, with some of the equestrian industry's most forthright and highly respected members. Each one has strong views on a range of different issues and we look forward to hearing them aired in the discussions."
BETA International is the world's leading trade fair for equestrian, country clothing, outdoor and pet products. The 2020 show takes place at the NEC, Birmingham, from 19 to 21 January. Entry is strictly trade only, with free registration at www.beta-int.com/visit. For further information about the show, please contact Fiona Berry, telephone +44 (0)1937 582111 or email info@beta-int.com