Leading companies connect with retailers via virtual showcase.
Next week's BETA International 2021 Preview comprises a series of online presentations featuring top brands.
All exhibitors taking part are signed up to appear at the trade show at the NAEC Stoneleigh on 9 - 11 September.
During the hour-long sessions, companies will present products, share ideas and help retailers maintain industry contacts.
The Preview will be on Facebook Live on Tuesday 20, Wednesday 21 and Thursday 22 April.
To view the sessions, and receive a timetable, retailers must be members of the BETA International 2021 Preview Virtual Event Group. To join, click here: https://www.facebook.com/groups/betainternational2021previewvirtualevent
THE FOLLOWING COMPANIES WILL MAKE ONLINE PRESENTATIONS DURING BETA INTERNATIONAL 2021 PREVIEW…
STRAWMAX PRESENTS A HEALTHY, HYGIENIC AND COST-EFECTIVE NEW BEDDING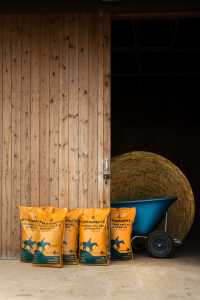 STRAWMAX is a 100% natural and sustainable straw pellet bedding. It's been developed to combine and maximise the benefits of both straw and pellets.
STRAWMAX is made at a dedicated production facility from high-quality, fully-traceable wheat straw. It's chopped, dried at sterilising temperatures, dust extracted and pelletised to create a consistent, top quality bedding available in 15kg bags.
STRAWMAX creates a healthy, hygienic stable environment for horses. It's soft and breaks down easily. When watered, the pellets fluff up to provide a deep, supportive bed with virtually no airborne dust. STRAWMAX offers exceptional moisture absorbency and highly effective odour suppression.
Users say STRAWMAX beds are easy to make and manage. Mucking out is swift and simple, with minimal amounts of bedding consigned to the muck heap.
This innovative, eco-friendly, cost-effective equine bedding - designed to keep stabled horses healthy – is available to retail outlets on pallets of 65 bags.
SHIRES PRESENTS FAST-MOVING PRODUCTS AND BRANDED COLLECTIONS FOR HORSE AND RIDER
A leading name in equestrian equipment across the globe, Shires is a family-owned business, trusted by riders since 1968. The company has proudly held a Royal Warrant to supply Her Majesty the Queen with equine equipment, clothing and footwear since 2009.
The ranges: A comprehensive collection of market-leading, fast-moving products stand the test of time. Shires is renowned for its horse rugs, leatherwork and fly protection ranges. Popular collections include Aubrion rider clothing, Moretta equestrian and casual footwear, ARMA horse boots, Karben riding hats and Digby & Fox dog products.
Retailer incentives: A comprehensive discount structure enables retailers to achieve strong margins. Monthly special offers mean substantial savings on current and discontinued lines.
Communication: Shires has dedicated in-house and field-based sales/customer service teams.
Support: Shires provides stockists with live video presentations of new ranges at key times of year or, on request, open day support, POS and merchandising assistance. Public awareness of brands is generated through a comprehensive marketing plan which includes product placement, print and social media. An annual 320-page catalogue is distributed directly to the public via equestrian magazines.
Web trade store: Shires provides carriage paid orders within mainland UK; and a commitment to dispatch orders within 24 hours.
PERRY EQUESTRIAN PRESENTS INNOVATIVE, COLOURFUL PRODUCTS FOR STABLE, YARD, TACK ROOM AND HORSE
Perry Equestrian is looking forward to supporting BETA International in both the virtual and live events. As runner-up for Trade Supplier of the Year in the 2021 BETA Business Awards, Perry Equestrian has much to offer retailers and wholesalers across the UK and Europe, including merchandising and marketing support.
"We are looking forward to meeting people virtually in April, giving you a taste of who Perry Equestrian are as a brand and a trade-only supplier," says Mark Bignell, marketing manager.
"We have worked tirelessly throughout the last 12 months to ensure constant supply to the trade."
As an innovative brand from A Perry, Perry Equestrian supplies equestrian and agricultural wholesalers, distributors and retailers with hundreds of bright, colourful products for the stable, yard, tack room and horse.
A Perry has been distributing gate hardware, ironmongery, chain and much more for over 95 years. Now with more than 140,000 sq. ft of warehousing and a strong distribution network, it covers the whole UK, Ireland, Europe and the rest of the world.
BETTALIFE PRESENTS TRADE INCENTIVES AND A MONEY-BACK GUARANTEE ON ITS COMPACT RANGE OF SUPPLEMENTS
"BETTALIFE offers 100% 'No Quibble' Money Back Guarantee that enables customers to try any of our products - and if not entirely satisfied for any reason, we simply refund them in full," says Ryan Millar, director.
"We are holding trade prices throughout the entirety of 2021 giving our stockists some certainty in a very uncertain world.
"This is extended to our trade network, so stores get to keep the margin from all sales when they sell any BETTALIFE product. It's 100% our responsibility when the customer has left the store.
"BETTALIFE's compact range is designed to make selling and purchasing our brand as easy as possible with colour-coded and clearly keyed product descriptions.
"We clearly label every ingredient per 100g, and per serving, to make it as transparent as possible to see what's in our products. We will never use any fillers or bulking agents in any of our products and batch test every blend (certificates available on request) of every single product we make.
"We're also very proud of our TrustPilot rating of Excellent, achieving an industry high of 4.9 stars out of a possible 5. This reflects how highly we value our customers and service.
CHARLES OWEN PRESENTS LIVE HELMET TESTING, GIVEAWAYS AND TRAINING
Join Charles Owen's POWER HOUR for giveaways, training and an interview with head of innovation Matt Stewart to watch fascinating live helmet testing.
World famous for raising the bar in safety, Charles Owen is a leading British manufacturer of riding helmets with a history dating back more than 110 years. Each helmet is handmade by highly skilled technicians using the highest quality materials in its award-winning, state-of-the-art factory in North Wales.
From initial sketches to prototypes, Charles Owen tests its products to the highest specification to ensure riders have the perfect combination of style and safety.
NEUE SCHULE PRESENTS BITTING KNOWLEDGE AND INSPIRATION FOR A NEW CAREER
Join the Neue Schule team and learn more about its award-winning bitting collection.
Discover the vast range of designs within the range, and get an exclusive insight into the unique selling points of Neue Schule products.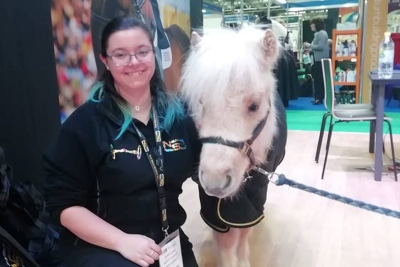 Company founder Heather Hyde will be on hand to talk you through the collection's best sellers. She'll also explain the support Neue Schule can offer you as a retailer, from personalised starter packs, to product display advice and ongoing retailer training.
Heather will then hand over to product specialist Aisha Kirby (pictured). Learn more about the educational courses that the Neue Schule Academy has to offer, including online courses that are ideal for retailers looking to enhance their bitting knowledge, through to professional LANTRA certified Neue Schule Qualified Bit and Bridle Fitting Course for those wanting to take their first step into a new career.
JSC ROTATIONAL / POLYJUMPS ARE ALSO PRESENTING.