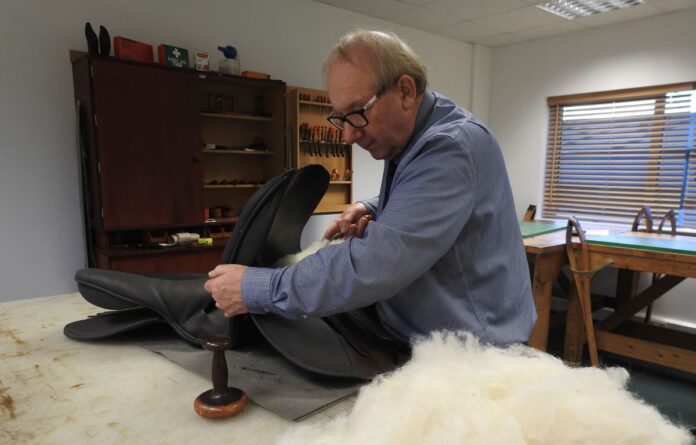 Now a renowned craftsman and mentor, this saddler joined the trade almost by accident…
Laurence Pearman is the ETN/SMS Bench Saddler of the Month for April.
The award, presented in conjunction with the Society of Master Saddlers (SMS), recognises those who uphold the highest standards of leathercraft skills.
Laurence was nominated by Emily White, a former apprentice of his and who's now a Master Saddler and Harness Maker.
Emily says: "Laurence is an expert in all things saddles. He specialises in fitting saddles, and has made the craft of flocking into an art. He can turn his hand to most bench skills too. His is always beautiful work."
About Laurence Pearman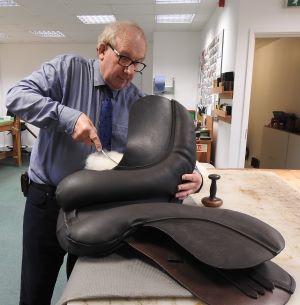 Although he mixed in horsey circles, racing motorcycles was Laurence's passion as a young man. He was successful in Motocross in his teens, then raced in stadium Speedway for a couple of years.
"Having picked up a few injuries, I turned to horses thinking it would be safer," he recalls. "But after eventing, team chasing and hunting, realised it was not!"
After leaving school and college, Laurence searched in vain for an apprenticeship in antique restoration as he'd always enjoyed making decorative and functional items from wood and metal. Instead, he was apprenticed at Hayes Saddlery in Cirencester.
As good as new
Over the years, Laurence has made saddles, bridles, harness, saddle trees and fancy goods. He's worked alongside vets to create special items for veterinary use too.
"When I saw one of my old clients recently, she said she still uses the complete set of driving harness, including the gig tree, I made 35 plus years ago – and it's still as good as the day it was made," said Laurence.
"With careful cleaning and feeding, no repairs have been necessary."
These days, Laurence enjoys making and restoring the leatherwork on the likes of horse-drawn carriages, vintage cars and railway carriages.
"I also enjoy wood carving and am a member of the British Wood Carvers' Association," he says. "I love making bellows, doing the leatherwork and carving the wood."
Among Laurence's more unusual commissions was to help design and make a couple of sets of soft leather ladies' underclothes…
Good rapport
"One of the best things about the trade is the variation of work that comes in," he added.
"Saddlery and leather craft is not just a horse orientated business but also customer orientated. It's very rewarding to have a good rapport with the clients, most of whom are lovely - although the odd few are much more unreasonable and demanding these days!
Today, Laurence is based at Cirencester Saddlers, in Cirencester Park on the edge of Cirencester town in Gloucestershire.
"We have a large workshop for repairs, bespoke work and saddle adjustments. We also have the facilities to run saddlery courses," he explains.
"We have a retail section, stock accessories for the horse and carry a huge range of saddles. We have use of a large arena next to the workshop for saddle fitting."
Laurence currently has two apprentices, but during his career has trained dozens more. "It's always interesting to see how their skills develop," he says.
Industry changes
Saddle fitting has seen perhaps the biggest change during Laurence's time in the industry.
"When I first came into the trade, the choices of fit were narrow, medium and wide. There were no adjustable saddles or gullet bars," he says. "Very few clients wanted customised saddles making.
"But due to changes in horse breeding and type, it was gradually realised that saddle fitting needed a rethink. And now it benefits the horse and the rider.
"A lot of scientific research is being done now, and it's important to keep up with innovative product development. I do feel there is a lot more scope for major changes in saddle design."
When it comes to unwinding from work, Laurence has kept his connection with motorcycle racing, mainly Speedway in this country and Poland. He finds wood carving a good way to relax too.
How to nominate a bench saddler:
Everyone is invited to nominate a bench saddler they feel deserves to be named ETN/SMS Bench Saddler of the Month. Candidates must be SMS members, based in the UK or overseas. To nominate a bench saddler (or more than one), email editor@equestriantradenews.com and tell us why this person deserves to be put in the spotlight. Please include the bench saddler's name and business name too.