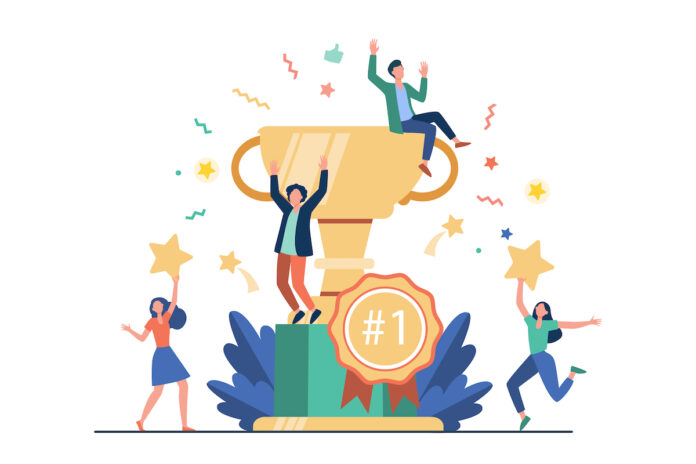 Teams enjoy socially distanced celebrations.
Recipients of 2021 BETA Business Awards celebrated remotely as their certificates and trophies arrived last week.
An online presentation ceremony had taken place on 11 March.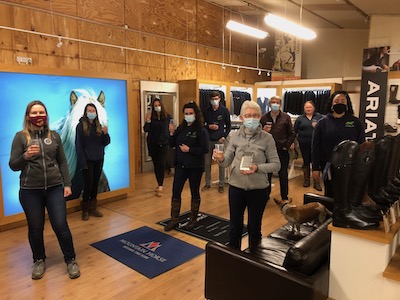 The British Equestrian Trade Association (BETA) organises the awards annually to recognise businesses and individuals making outstanding contributions to the industry.
Despite the requirements for social distancing due to the coronavirus pandemic, the winners still managed to celebrate at their respective places of work.
"We were absolutely thrilled to win these awards – particularly in such a challenging year," said Kathryn Jaquet of winning retailer RB Equestrian.
"A huge thank you to everyone who voted for us and to SEIB for sponsoring these awards and for all the support they offer to the industry."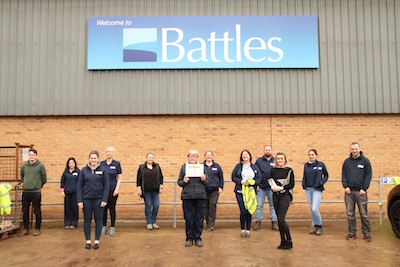 The team at Battles cheered their well-deserved win outside the wholesaler's Lincoln headquarters.
"We're absolutely delighted to have won this award, which now has pride of place in reception," said Beverley Smith, Battles' UK retail sales and development manager
TopSpec collected the Stubbs England Nutritional Helpline of the Year Award for a record 12th time.
Despite the additional pressure of members of the nutrition team working from home, the feed company's helpline has remained open throughout pandemic.
"Thank you to all our clients who nominated us and also a big thank you to our wonderful team," said TopSpec's nutrition director Nicola Tyler.
"It really is a team effort and everyone involved has pulled together over the last year to maintain the high standards the TopSpec Helpline is known for.
"The award is something we never take for granted and our aim is always to provide the very best advice and management from our experienced team of nutritionists and vets."
The 2021 BETA Business Awards were certainly the most unusual since their last-minute postponement more than a decade ago because of a fire at the venue.
However, this year's online ceremony did have one big benefit for winning companies, as Nicola Tyler pointed out.
"The virtual, filmed presentation allowed TopSpec staff not normally at the event to enjoy the occasion and share in the celebrations."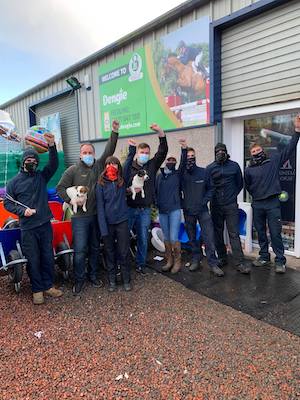 THE WINNERS OF THE 2021 BETA BUSINESS AWARDS WERE:
BETA EXPORT AWARD
Winner: Science Supplements – Hartwell, Northamptonshire
WEATHERBEETA GROUP RETAIL EMPLOYEE OF THE YEAR
Winner: Jasmin Khan – Cork Farm Equestrian, Ashford, Kent
TSM MARKETING EFFECTIVENESS AWARD
Winner: The Saddle Bank – Peterborough, Cambridgeshire
Highly commended: Horslyx/Caltech
CITATION TRADE SUPPLIER OF THE YEAR
Winner: Battles – Lincoln
Runner-up: Perry Equestrian – Cradley Heath, Staffordshire
STUBBS ENGLAND NUTRITIONAL HELPLINE OF THE YEAR
Winner: TopSpec Equine – Thirsk, North Yorkshire
Runner-up: Baileys Horse Feeds – Braintree, Essex
SEIB RETAILER OF THE YEAR
EQUESTRIAN RETAIL STORE
Winner: 1st Choice Horse Supplies – Larkhall, South Lanarkshire
Runner-up: RB Equestrian – Milton Keynes, Buckinghamshire
Highly commended: Barnyard Pet & Equestrian Supplies – Northwich, Cheshire
ONLINE/MAIL ORDER RETAILER
Winner: RB Equestrian – Milton Keynes, Buckinghamshire
Runner-up: Redpost Equestrian – Totnes, Devon
* The Equine Careers Sales Representative of the Year and the Equestrian Event of the Year supported by Henson Franklyn awards were held over until 2022. The BETA Lifetime Achievement Award has been postponed until BETA International, in September.