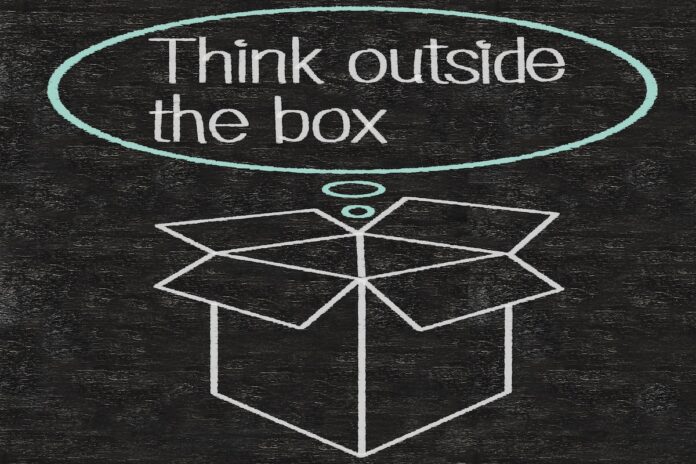 It's about attracting new customers beyond equestrian clients, says award-winning saddler.
As an advocate of saddlers branching out into making non-equestrian products, it's apt that Lynsey Ellis won a national award with a leather belt she created.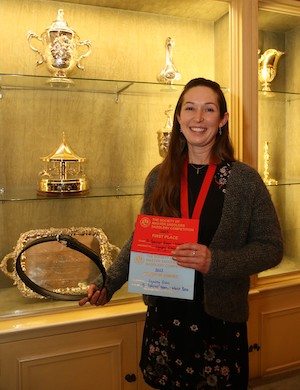 This month, Bedfordshire based Lynsey, an SMS Master Bridle and Master Harness Maker, has been named ETN/SMS Bench Saddler of the month.
The award, presented in conjunction with the Society of Master Saddlers (SMS), recognises those who uphold the highest standard of leathercraft skills.
Lynsey describes herself as a practical person who loves the outdoors.
She grew up around horses and, with her mum's support, was a member of her local Pony Club branch and competed in all disciplines on different ponies before moving onto horses.
Lynsey's current steed is a 14.1hh, 12-year-old traditional gypsy cob mare, called Scrumpy. However, as much as she loves horses, she never wanted to work directly with them.
"I always wanted to keep horses as my hobby," she explains. "It was a friend who suggested looking at training in the world of saddlery."
Career path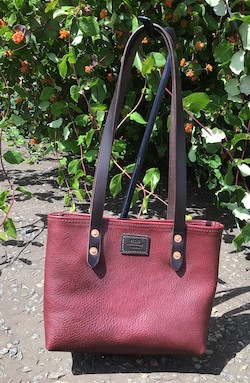 Lynsey became one of the final saddlery students to study at Walsall College before it stopped running these courses. After four years of full-time study and a year part-time, she became an SMS Qualified Harness Maker.
Lynsey then began working for herself while also helping another saddler, Nigel Parker. "It was good to leave college and not be left completely on my own," she says. "It was nice to get some guidance as I gained experience."
Lynsey formed Ellis Leatherwork in 2006. And by 2018, she was upgraded to SMS Master Bridle and Master Harness Maker.
Although she makes some beautiful bespoke bridles, most of her work is leather repairs. Lynsey also makes dog collars, leads and belts. More recently, she's started making leather bags.
"You have to think outside the box," she explains. "I have an equestrian client base, but it's important to attract new customers. Leather bags are popular and it's another way to showcase the craft."
Competition winner
Lynsey has entered several SMS National Competition classes over the years and done well. This year, she almost didn't enter – until she noticed that for the Special Open Class competitors had to make a belt, one of her specialities.
"We had to make a fully-lined, raised belt. I liked the fact that we were making something to a specification to show off our skills," says Lynsey.
"I was pleased with the end result and knew I'd produced my best work. However, winning the class was amazing and a great confidence booster."
Her prize-winning belt is now on display in Lynsey's workshop and often used to show people what to expect from her work.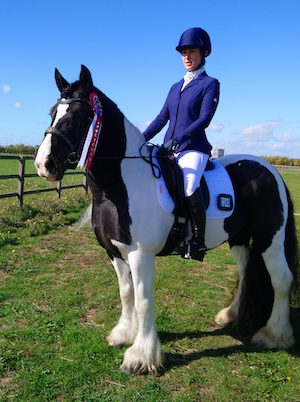 Time away from the bench
Juggling work and a horse can be a struggle, and Lynsey admits that she's lucky to keep Scrumpy at home which is also where her workshop is located.
Lynsey has owned the mare for nearly six years. "I never thought I would own a cob," she says, "my previous horse was a Thoroughbred. But Scrumpy is far from being a dope-on-a-rope and is great fun. We do Trec and British Dressage competitions."
When she's not spending time with Scrumpy, Lynsey enjoys being creative and regularly puts her sewing machine skills to good use to make her own clothes.
How to nominate a bench saddler
Everyone is invited to nominate bench saddlers they feel deserve to be named ETN Bench Saddler of the Month. Candidates for the award must be members of the SMS and based in the UK or overseas.

To nominate a bench saddler (or more than one),  email editor@equestriantradenews.com and tell us why this person deserves to be put in the spotlight. Please include the bench saddler's name and business name too.