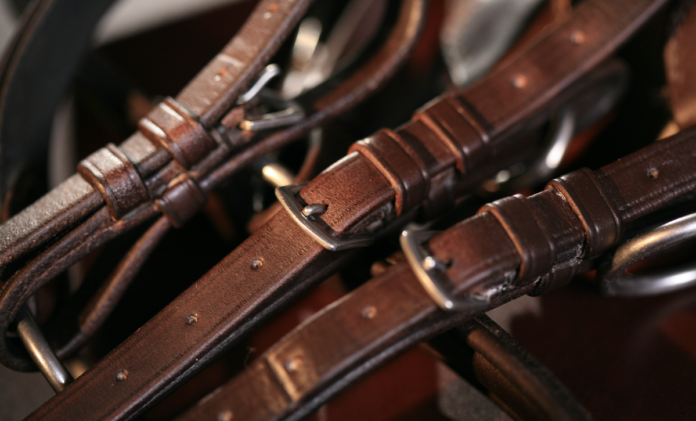 All in a day's work for an award-winning saddler.
The ETN/Society of Master Saddlers (SMS) Bench Saddler of the Month award recognises outstanding skills and craftsmanship.
This month's winner is MATTHEW PAYNE.
Matthew was nominated by Master Saddler Frances Roche, who says: "Although most of Matthew's career has been as a traditional saddler, he has also worked in the film industry.
"Recently he's made bespoke items for [interior designer] Linley and watch straps and belts for Ralph Lauren. Matthew creates beautiful leather-covered handles for kitchen and dining room furniture; he's even made leather floor coverings.
"Matthew is an absolute perfectionist who never has a stitch out of place. The finish on his work is second to none. Last year he won a first prize in the SMS National Saddlery Competition for a superb bridle he'd made."
About Matthew Payne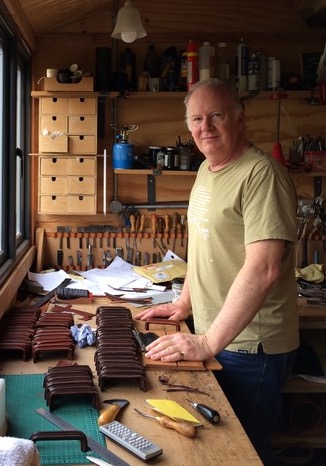 Matthew is a Master Harness Maker who's been working in the trade for 35 years. He's based on the edge of Dartmoor.
From an early age, he loved crafting. And although his family didn't have horses, this didn't stop him from taking up the reins.
"Airfix models played a big part in my childhood," he says, "and I rode from the age of about 11.
"I made a nuisance of myself at local stables and farming friends with horses. I loved taking all the tack apart, cleaning it scrupulously and putting it back together. I was quite popular!"
It was during his final year at school that Matthew discovered Cordwainers College in Hackney and was accepted onto its Rural Saddlery course.
After college, he became an apprentice to Bridleways of Guildford under the tutelage of well-known saddler Les Coker.
Self-employed for the last 20 years, Matthew now works in a purpose-built studio in his garden.
Making bespoke in-hand and riding bridles to customers' commissions is one of Matthew's regular jobs; making harness is a particular favourite.
Glamorous commissions
His most glamorous commission was to make the interior of a picnic hamper for the Crown Prince of Bahrain.
"It was all in dark green leather to match his Mk.1 Land Rover," says Matthew who has gone on to rub shoulders with more famous names…
"I also made a side-saddle for Angelina Jolie for her to ride on in Tomb Raider Two. It was fun being on location for a few days during the shooting of the film."
Interior design
Much of Matthew's current work is for the interior design world.
"I make a lot of leather covered pieces for architects and designers; nearly always hand-stitched. I like the collaboration, and their attention to detail.
"And designers don't mind paying a decent rate for my time, which is a huge plus."
Industry changes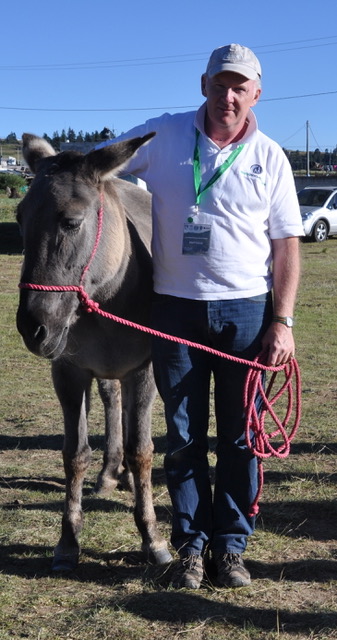 The saddlery trade has changed during Matthew's working life.
"Leather is used less; a lot of synthetics are now used. Although there hasn't been a bridle leather substitute developed with the same qualities... luckily for me. I love working with an organic material.
"Customers aren't as discerning as they used to be," he adds. "It's quite difficult getting them to see the difference between a good quality bridle and a bad one.
"They don't expect things to last long, so they balk at a price tag of £300 for a bridle.
"Customers shouldn't expect a hand-made product for peanuts. Luckily I now have the sort of work where I can avoid those situations."
Camaraderie and camping
Matthew has known many colleagues in the trade for a long time, and feels that camaraderie is the best thing about the saddlery industry.
"It's always good to meet with fellow craftsmen and women to talk about our respective highs and lows," he says.
"When I'm not working, I enjoy making the most of the outdoors so I hike, camp, wild swim, and ride and drive horses.
"I also enjoy going to the theatre and cinema and like to get up to London as much as possible."
Matthew was interviewed before the Covid-19 outbreak.