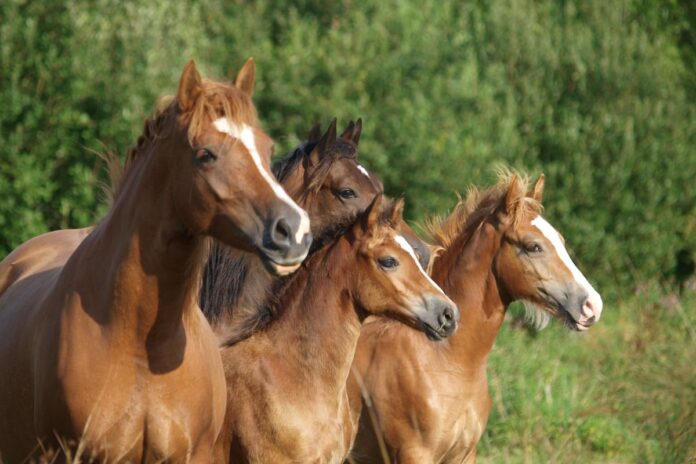 Experts happy to work with equestrian businesses on mutual support basis.
A charity is keen to work with designers, manufacturers and distributors of equestrian products.
Here4Horses is the chosen charity for BETA International 2023 at NAEC Stoneleigh on 10/11 September.
At the show, the Co Durham based organisation will explain how its volunteer team of experts can liaise with businesses to achieve better lives for horses and ponies everywhere.
Here4Horses concentrates on caring, practical and educational action to create a happy and fulfilling existence for all equines. Its philosophy aligns with many businesses' efforts to promote their equine welfare credentials.
"We're delighted to have this opportunity to network with equestrian businesses – and look forward to exploring practical ways to collaborate, in pursuit of a better life for horses," said Claire Robinson, chair of trustees at Here4Horses.
Here4Horses will have a stand, donated by the organisers, at BETA International. Representatives from the charity will also give a presentation about its work in the BETA International Seminar Theatre on both days.
Find out more about Help4Horses at https://here4horses.org.uk
Putting something back into the industry
BETA International is run by the British Equestrian Trade Association (BETA) for the betterment of the entire equestrian industry. The show is supported by a number of sponsors.
Bits and bitting specialist Neue Schule returns for the tenth year as main sponsor.
"BETA International has a magnificent legacy, it is the original equestrian trade show, delivering product innovations and next generation products to the equestrian industry," says Neue Schule CEO Sarfraz Mian.
"The trade fair is vital for the UK trade; certainly during challenging times it is a valuable platform that enables the exchange of ideas and insight from across the industry to build and enhance trade activity."
The Neue Schule team will be on hand at the show to help retailers revitalise their bit sales activities and showcase new introductions to the product range.
Space Studio and Event Specialists are co-sponsors of BETA International's exhibitor goody bags.
Space Studio designs and prints exhibition graphics at its Coventry based HQ. Event Specialists provides exhibition infrastructure from shell scheme to carpeting and electrics.
"BETA International and the equestrian sector is all about lovely people," says director Rachel McGowan-Kemp.
"It's also a great opportunity for Space Studio to explore new avenues such as offering our services to retailers, something we'd really like to do more of."
Horse&Rider Magazine is to sponsor the BETA International New Product Showcase.
Each company taking a stand can display one new product in the showcase for free. All entries are judged in eight categories for New Product Awards, sponsored by Equestrian Trade News.
"Horse&Rider readers want the best for their horses in all aspects of their care," said editor-in-chief Louise Kittle.
"They expect us to bring them the latest developments in everything from clothing to safety kit, and equipment to feed, which is why sponsoring the New Product Showcase feels like the perfect fit for the brand, and I look forward to sharing entrants in the showcase with our audience."
LeMieux, well-known for its colourful collections for horse and rider, is to support BETA International's Coffee Shop.
Says director Robert Lemieux. "The event serves as an invaluable platform for networking, innovation, collaboration and knowledge-sharing among various stakeholders, including manufacturers, service providers, retailers and, importantly, offers a showcase to start-up businesses."
To find out more about BETA International and see a full list of the 120 plus exhibitors, visit www.beta-int.com/exhibitors