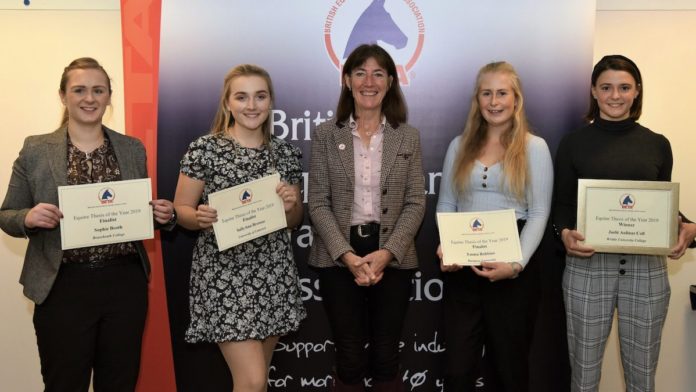 Writtle University College student Judit Aulinas Coll has been named winner of the 2019 BETA Equine Thesis of the Year Award for her dissertation The Effects of Dynamic Mobilisation Exercises on the Biomechanics of Ridden Horses.
She joined the competition's three other finalists – SallyAnn Browne, of the University of Limerick, Emma Robbins, of Hartpury University, and Sophie Booth, of Reaseheath College – on Sunday, 27 October to present her thesis to the judging panel and audience of academics and industry representatives.
Judit's dissertation, exploring the use of a core strengthening programme in promoting improved gait symmetry and equine wellbeing, was declared the winner by the judges – research consultant Dr Georgina Crossman, chair of the BETA Feed Committee Chris Gordon, ETN editor Liz Benwell and vet Karen Coumbe.
The winning student's undergraduate work was inspired by studies and surveys showing that back pain affects performance in horses, with 80% experiencing it in their careers.
"I am thrilled to have won," said Judit, who is from Catalonia, Spain, and now studying for a masters in veterinary physiotherapy. "We have always known that core exercises improve the welfare of horses and I feel that my work has proved this.
"I conducted the research over the summer break with a control and treatment group – each with seven horses. By employing an eight-week core-strengthening programme, we are able to see an improvement in gait symmetry and quality, which could be linked to greater stability and more equitable movement of the back."
Dr Georgina Crossman, chair of the judging panel, praised each of the finalists on the high standard of their work but said the decision to make Judit the winner was unanimous. "The presentations were interesting and varied. Judit's presentation stood out because her research was well thought through, with clear study design, and she displayed thorough knowledge of her topic, ably answering questions."
Claire Williams, executive director of the British Equestrian Trade Association, added: "We were tremendously impressed with the high calibre of undergraduate work this year and thoroughly enjoyed listening to each presentation. Our congratulations go to Judit, with very best wishes for her Master's degree.
"The BETA Equine Thesis of the Year Award has really grown since we relaunched it four years ago and we are extremely grateful to the universities and colleges that have taken part. Thanks must also go to our judges, preliminary and finals, who dedicated so much time to carefully considering every one of the theses entered in the competition."