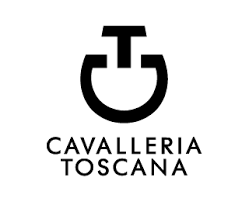 5th August, 2019.
Sportswear range has ideas for competition through to everyday wear.
Italian brand Cavalleira Toscana is now available to the UK trade through distributor Zebra Products.
The Italian brand was founded in 2008 with the ambition to make technical sportswear look elegant.
"We're excited to be working with well-known equestrian distributor Zebra Products and are looking forward to developing our technical-led collection further in the UK," said Carol Boni of Cavalleria Toscana.
The collection is showcased four times a year and includes ranges for men, women and young adults as well as an accessories line. There are also matching equine outfits.
"Cavalleria Toscana's collections include top quality, super stylish competition wear from jackets to shirts to fashionable clothing suitable for both riding in at the highest level and everyday wear such as comfortable breeches and stylish sweatshirts," said Zebra Products' Simon Middleton.